Best Galaxy Note 20 and Note 20 Ultra screen protectors
9
We may earn a commission if you make a purchase from the links on this page.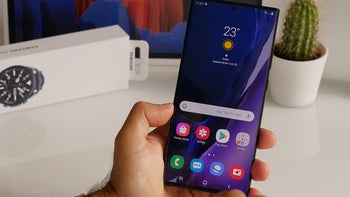 When you think about premium mobile phones Samsung's Note lineup used to come to mind almost instantly. These devices were standing at the forefront of innovation and people are always looking forward to the next iteration, so, after previewing the
best Galaxy Note 20 and Note 20 Ultra cases
, it's time to slap a protector on it.
Dishing out a grand on a mobile phone is not an easy decision, and when you finally give in to the temptation, you need to think about protecting your new treasure. The Galaxy Note 20 Ultra is wrapped in
Gorilla Glass Victus
, ensuring some added protection, but a good screen protector can be a lifesaver. Especially considering some Samsung phones from the past were popular for their easy-to-break displays.
These are the best
Galaxy Note 20
and
Note 20 Ultra
screen protectors for your peace of mind. You should couple them with a nice case for a complete protection suite.
Keep in mind that Amazon will most likely discount a lot of smartphone protectors and cases when Prime Day deals start in the summer.

ALSO READ

Best Galaxy Note 20 and Note 20 Ultra screen protectors


Whitestone Dome Glass

ESR Tempered-Glass

Olixar Ultra Tough
InvisibleShield's GlassFusion+ Antimicrobial Screen Protector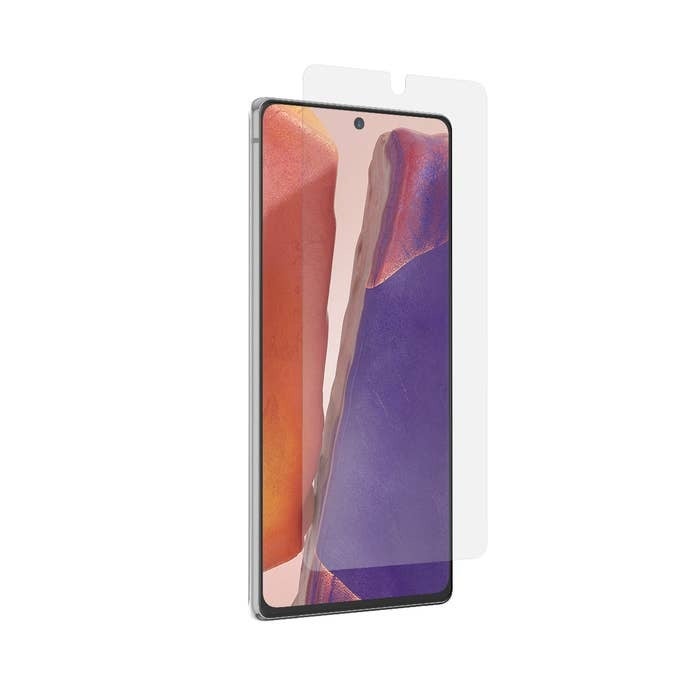 If you opted for the Galaxy Note 20 Ultra, you'll need the best protection there is. ZAGG's InvisibleShield screen protectors are pretty close to perfection with their flexible hybrid glass that absorbs shock and disperses impact.
The added anti-bacterial coating kills 99.99% of the most common surface bacteria and inhibits the growth of algae, mold, and mildew. On top of that, you get a smudge-resistant surface finish that prevents oils from adhering to your Galaxy Note 20 Ultra.
Whitestone Dome Glass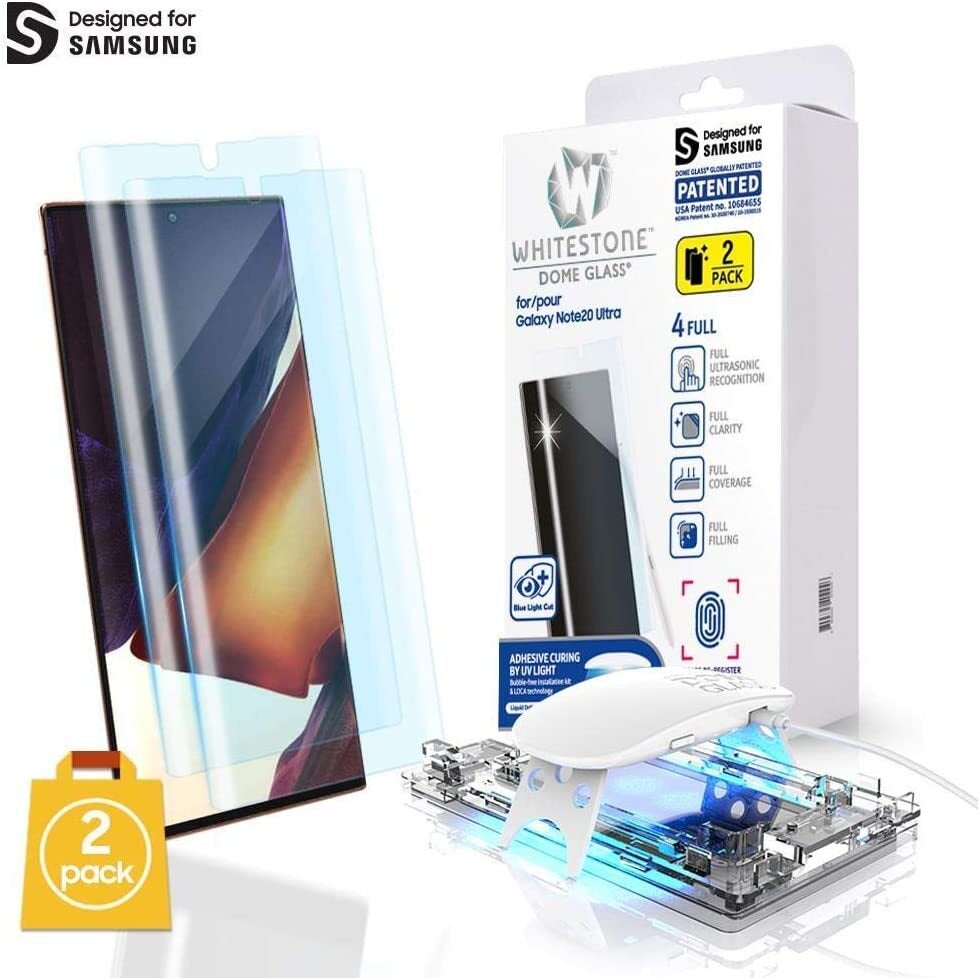 Speaking of perfection, if the ZAGG protectors are close to it, then Whitestone's Dome Glass screen protector is perfection incarnate. Apart from being the only tempered glass screen protector recognized by SMAPP (Samsung Mobile Accessory Partnership Program), it's so "covered" in features that you can be sure it's the best choice for your Galaxy Note 20 Ultra.
The liquid dispersion technology works with the Qualcomm ultrasonic fingerprint reader. Keeps your phone sharp to your touch - you do not have to give up the touch sensitivity for extra protection.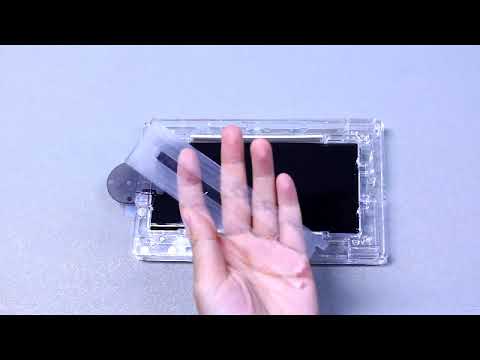 There's also a blue light cut feature that prevents eyes damage from blue light. It's on the expensive side at
$69.99
for a pack of two but hey, a screen replacement will definitely cost more, right? Be sure to watch the installation video for the best results when applying the protector (Note 10 covered in the video but the process is identical).
SaharaCase - ZeroDamage HD Privacy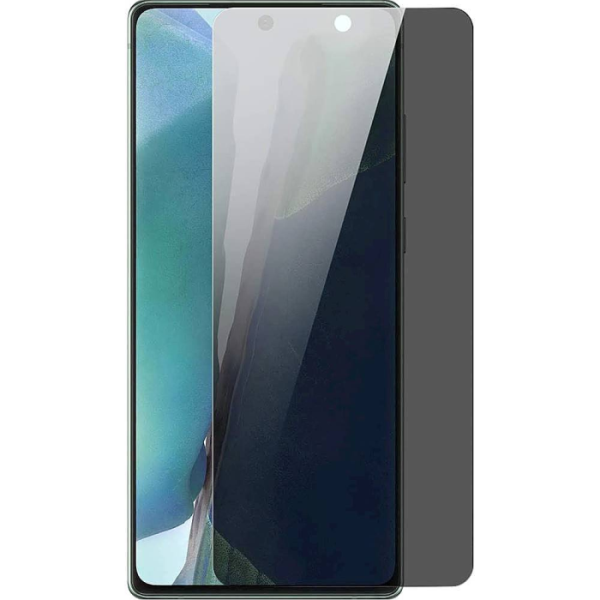 Safeguard your Samsung Galaxy Note 20 with this SaharaCase ZeroDamage privacy tempered glass screen protector. The hydrophobic coating keeps screen free from smudges, while the anti-scratch surface protects against damage during accidental slips. This SaharaCase ZeroDamage privacy tempered glass screen protector features anti-spy technology to ensure the privacy of your screen.
ESR Tempered-Glass Screen Protector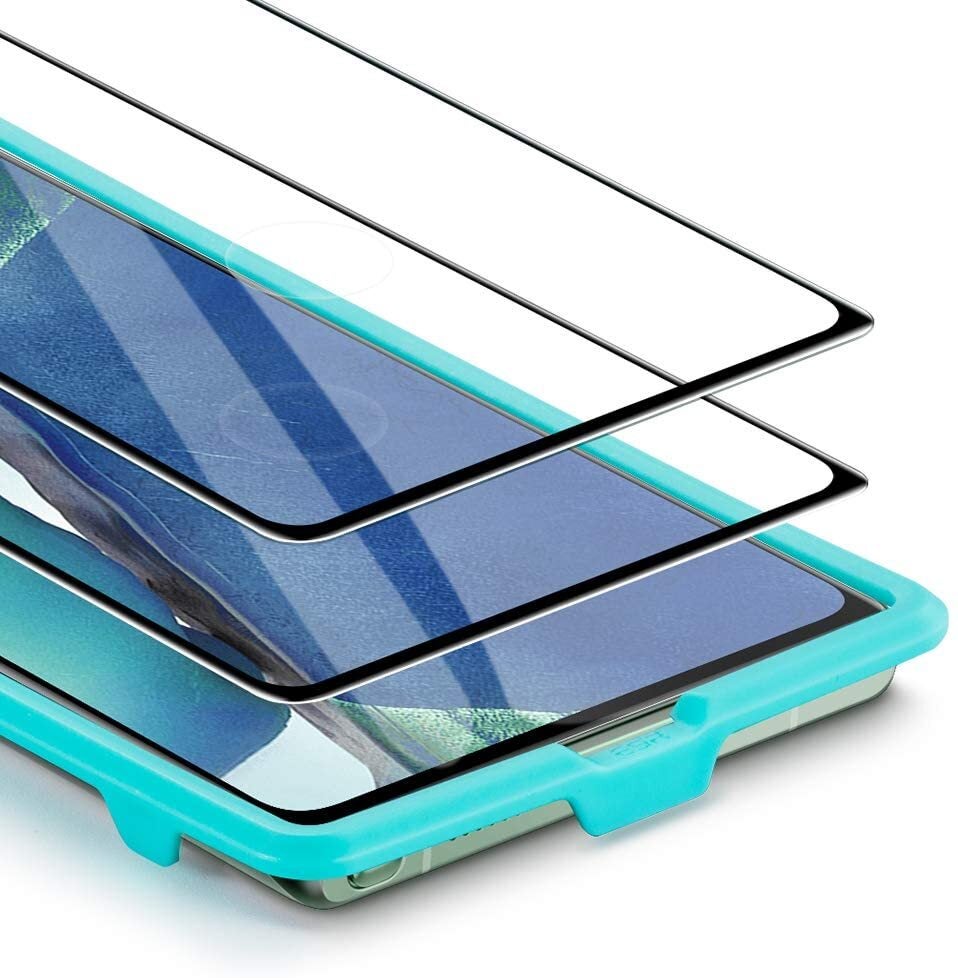 There are some budget solutions to your Galaxy Note 20 screen protection woes, but "budget" not always mean inferior. ESR's Tempered-Glass screen protector proves this point in an unambiguous way. It's compatible with the ultrasonic in-display fingerprint sensor of the Galaxy Note 20, can withstand up to 5 kg of pressure, and the easy installation kit makes slapping it on a breeze. You get a pack of two for just
$19.99
so it's a bargain as well.
Olixar Ultra Tough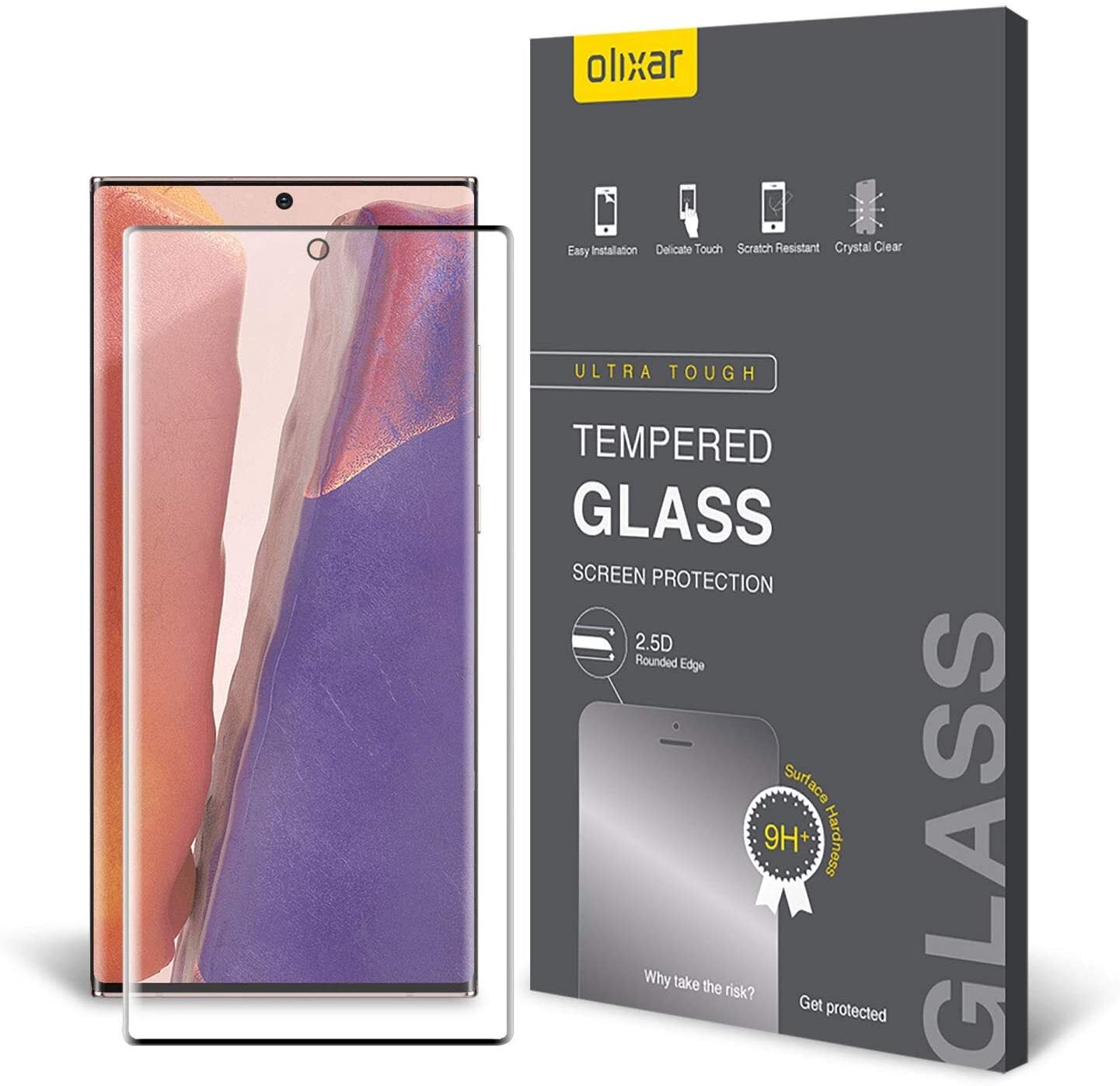 Another solid option for your Galaxy Note 20. The Olixar Invisible Protection screen protector is just 0.27 mm thick, which guarantees full touchscreen and fingerprint sensitivity. This protector is also 100% transparent with HD crystal clear clarity that provides invisible protection which won't decrease the sharpness or brightness of your phone's display.
It's tempered glass, which means triple the strength of non-tempered general alternatives, extremely scratch and shatter resistant. The installation kit is more modest than other alternatives but will get the job done. There's a cleaning cloth, dust removal sticker, and wet-wipe that ensure a bubble and dust-free application.
BodyGuardz PRTX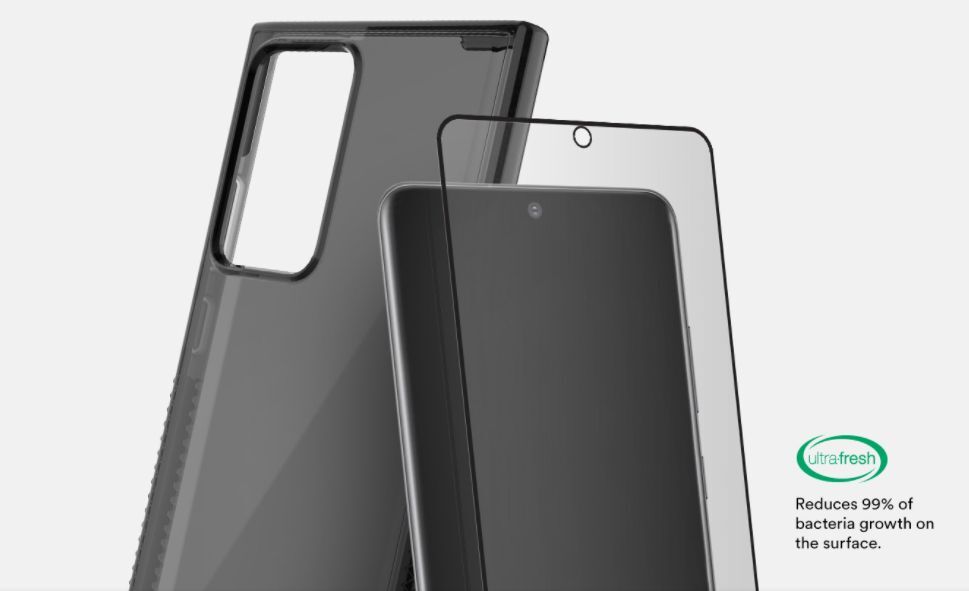 PRTX is a fully synthetic, glass screen protector matching the look and feel of glass, but will never chip, shatter or pop off the screen. The electroplated, hardened topcoat of PRTX looks, feels and protects like glass and prevents scratches. The middle layer is a blended formula of acrylic and PET that takes the impact but flexes and bends to prevent shattering. The absorbent adhesive layer covers the entire surface to prevent stylus glitches or loss of touch sensitivity. Ultra-Fresh technology reduces 99% of surface bacteria growth for additional peace of mind. BodyGuardz offer screen protectors for both Note 20 and Note 20 Ultra for around
$50
, and you can check for discounts on their official site.
amFilm Ultra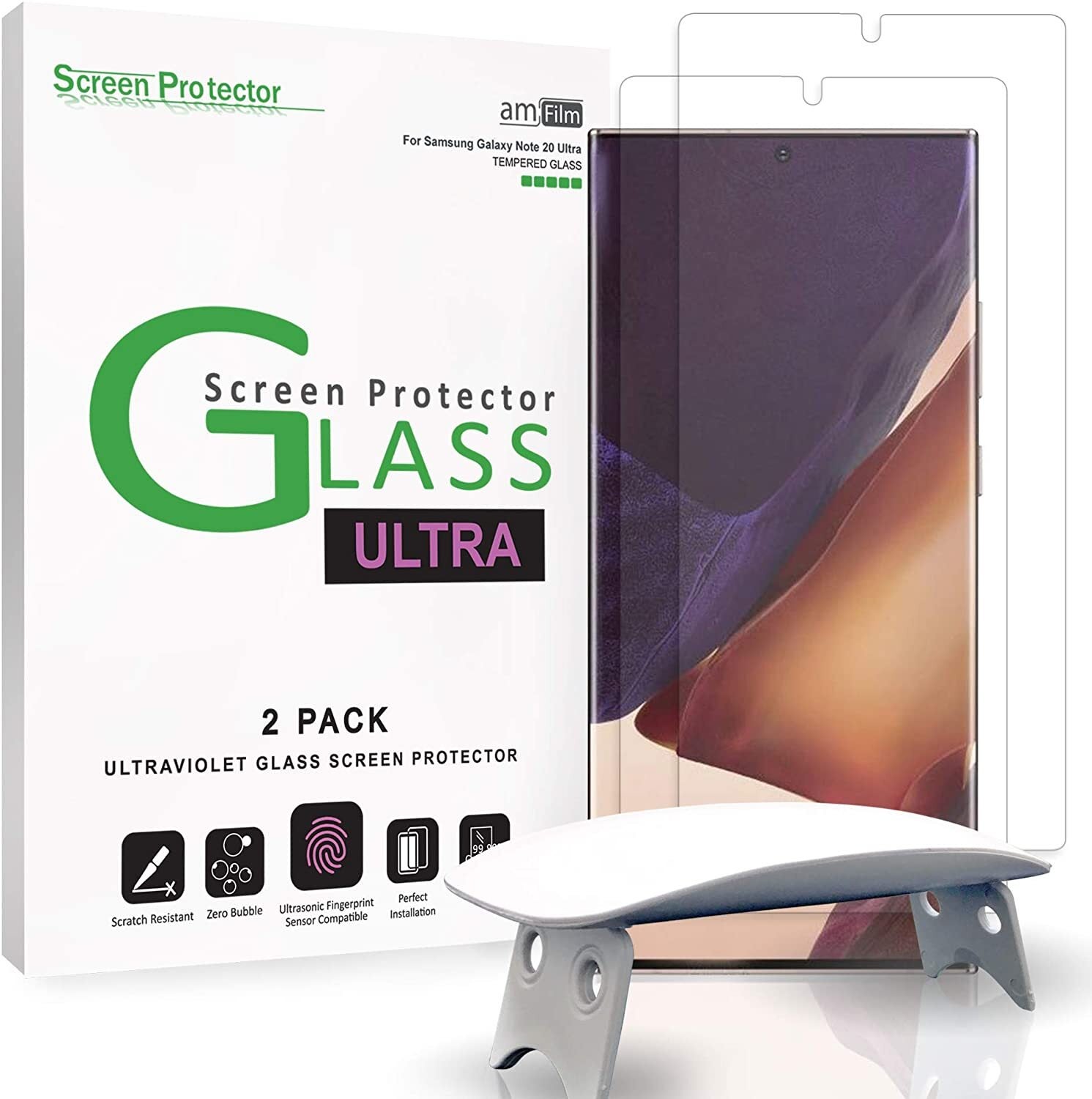 Here's another high-end protection option for your Galaxy Note 20 Ultra. The amFilm Ultra Glass Screen Protector uses that fancy UV light curing method to fit perfectly on your device. You get everything needed in the box and there's a detailed video with installation instructions. This protector will work flawlessly with the ultrasonic fingerprint scanner of the Galaxy Note 20 Ultra but you might need to re-scan your finger for best results. If the Whitestone option seems too expensive, this amFilm glass protector is a great alternative that comes at
$39.99
for a pack of two. The deal is sweetened by round-the-clock customer support to give you that additional peace of mind.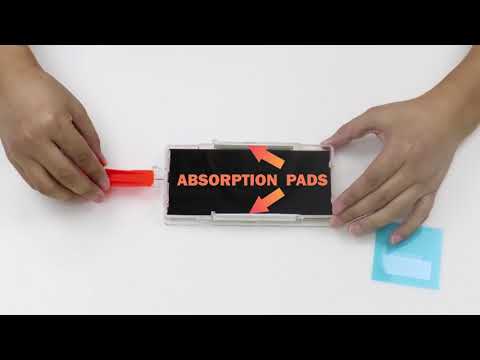 Spigen NeoFlex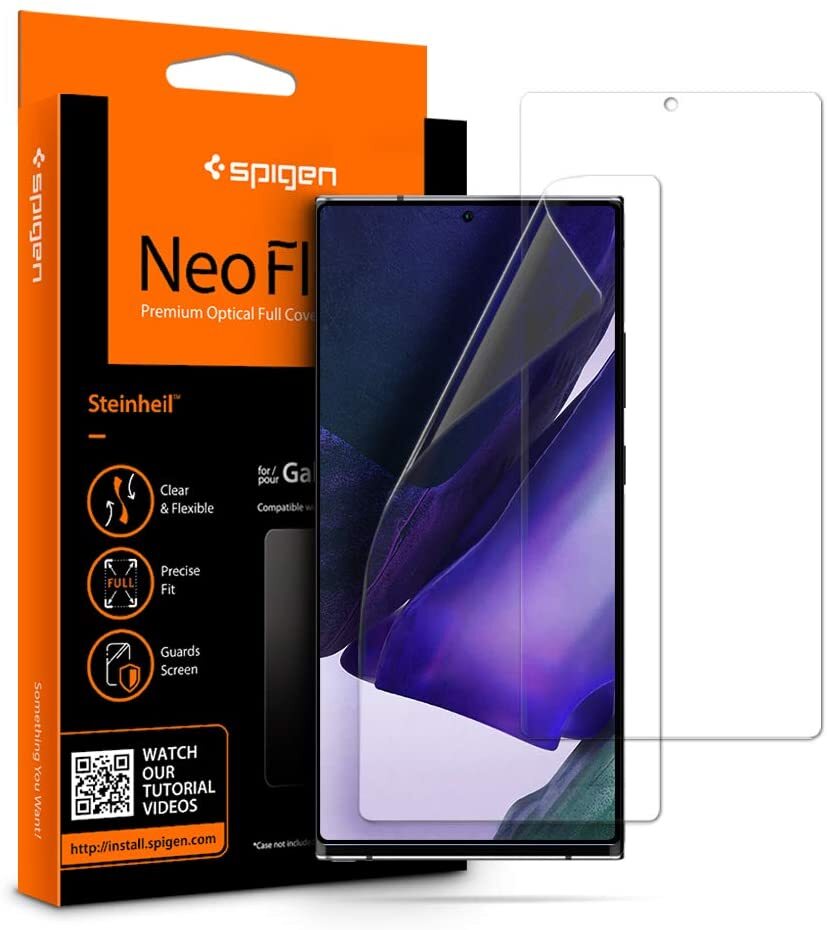 You can't go wrong with Spigen phone accessories. The Korean brand quickly became a go-to place for phone protection and there's a good reason why. Spigen products are top quality and at the same time won't make you rob the bank. The NeoFlex screen protector is designed for the Galaxy Note 20 Ultra and comes with a lot of bells and whistles for its price of
$9.99
. You get bubble-free application and zero lifting with wet installation, zero glares or rainbow effects, a self-healing technology that keeps the screen scratch and fingerprint-free. You can match this screen protector with all Spigen cases for a complete protection.
PanzerGlass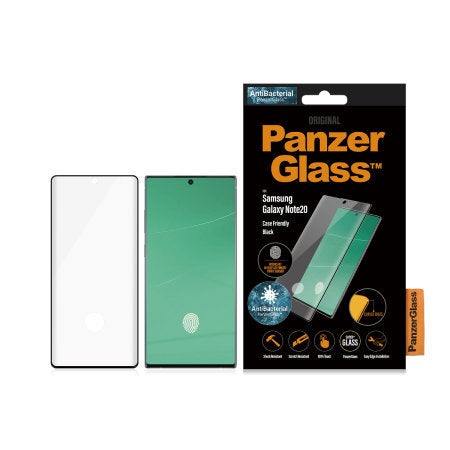 PanzerGlass screen protectors are as tough as the name suggests. They are shock and scratch resistant, case friendly, allow fingerprint reading and are anti-blue light. The 0.4mm thickness ensures minimal bulk added to your Galaxy Note 20 or Note 20 Ultra. The protector itself is made from a chemically reinforced 9H high-tension tempered glass for maximum protection. Get yours at MobileFun for
$32.99
.
Gadget Guard Black Ice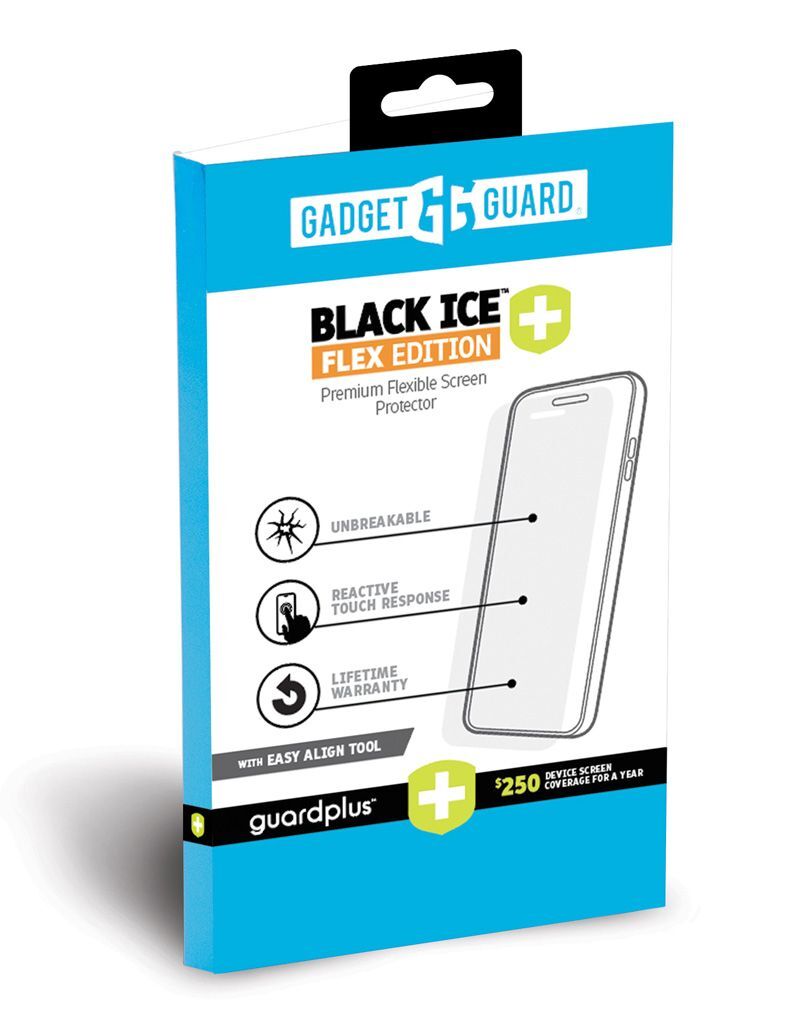 Gadget Guard offers an interesting addition to your regular screen protection deals. Apart from all the tech behind the glass, like the five integrated layers of protection, the shatter and chip resistance, and the anti-scratch and smudges treatment, Gadget Guard tops the deal with an insurance.
If your phone drops and the screen breaks, you will receive up to $250 towards the screen repair.
There are various options available and prices start from
$49.99
without coverage and go up to
$69.99
if you opt for the $250 plan. It's a neat idea. For $20 extra you won't need to worry about dropping your precious new Galaxy Note 20 Ultra and shatter that gorgeous AMOLED.
A screen protector is necessary for the Note 20
Samsung phones were never the most rugged ones. That's probably because they were always cutting edge and on the forefront of technology. This makes them fragile and in desperate need of some added protection. That's why there is so much choice when it comes to Galaxy Note 20 and Note 20 Ultra screen protectors. So pick the best one for you and give yourself a peace of mind.
Recommended Stories