Best Buy Cyber Monday deals: Recap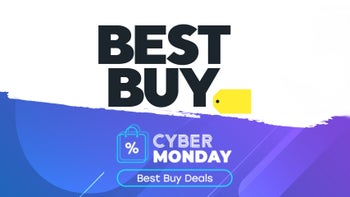 Cyber Monday 2022 came and went, but fear not - instead look forward to
Black Friday 2023
and
Cyber Monday 2023
, along with all of the great deals Best Buy will drop for those shopping events, as it does every year! In the meantime, let's recap what Best Buy had in store for us during last Cyber Monday, in terms of deals on phones, tablets, headphones and other tech toys, so we know exactly what to expect next time around!
What were the best Cyber Monday deals at Best Buy?
Best Buy is definitely the store to look out for during every year's most popular shopping event, as it was among the first to launch early Black Friday deals, and those only got better and went on strong after the following Cyber Monday!
Notably, Best Buy had a lot of great Samsung phones for less! Samsung's flagship Galaxy S22 Ultra model, with its strong 10x optical zoom and awesome power user features, could be yours with a huge $300 discount. We're talking a 256GB unlocked S22 Ultra for just $999, instead of its usual price of $1299. That was a fantastic deal with no strings attached, which we can expect to repeat for next Cyber Monday too!
Best Buy also had a generous Cyber Monday deal on the middle sibling of the Galaxy S22 family - the Galaxy S22 Plus. You could save $250 on the unlocked models, while carrier-locked ones were also discounted.
During last Cyber Monday, Best Buy had also discounted the vanilla Galaxy S22. For the unlocked version of this phone, you could save a clean $100! In other terms, a 13% discount. Carrier-locked versions were also discounted, so if you wanted to activate your phone with one of three major carriers, you would also get a discount.
Fans of the cutting-edge, foldable Samsung Galaxy Z Fold 4 could save $400 on the unlocked variant at Best Buy! That means you could pick up this phone and tablet in one for $1,399.99, which is quite cheaper than its original price. Trade-in discounts were also available for the carriers, of course.
Were you looking for a fancy, eye-catching, clamshell foldable phone with powerful performance? Yep, the Z Flip 4 is usually quite expensive starting at $1000, but during last Cyber Monday it was $200 off at Best Buy.
Google's (then-)latest phone, the Pixel 7, was $100 off at Best Buy (unlocked)! You could get it for just $499, which is an epic price for such a nice device. You could save even more if you had a trade-in device to offer Best Buy (the amount of the trade-in depends on the model and condition of the device).
The camera phone known as Sony Xperia PRO-I was heavily discounted at Best Buy during Cyber Monday too! You could save $700 and get it at the price of a regular flagship, so this was a very generous deal indeed! Enjoy 512GB storage and a 1-inch industry-leading camera sensor!
Discounts on iPhones are rare during such shopping events, but at Best Buy, you could save $50 on a pre-owned iPhone 11.
We also saw solid offers on OnePlus phones (OnePlus 10 Pro was $250 off), and many other models from several of the biggest phone brands.
In addition, obviously Best Buy had plenty of great deals on other tech devices during Cyber Monday, as it will next time around. Normally costing a pretty hefty $1099.99 price, Apple's 12.9" iPad Pro was down 27% in cost at Best Buy! You could save $300 and get this flagship tablet - not too shabby!
Not an iPad fan, prefer Android tablets? Well, you're covered too - the following huge 14.6" Samsung tablet was also discounted in this generous Cyber Monday deal. Indeed, you could get the best Android tablet with $300 off, completely unlocked, no questions asked. This was the 512GB storage version of the Samsung Galaxy Tab S8 Ultra, which comes with an S-Pen in the box.
Similarly, smartwatches like the Apple Watch Ultra were up to $60 off, the Google Pixel Watch was $50 off, and so was the Galaxy Watch 5 Pro. Even better, the Garmin Epix (Gen 2) was a cool $100 off at Best Buy during last Cyber Monday.
We had great deals on headphones too, so expect those during Cyber Monday 2023 at Best Buy! For example, the Sony WH-1000XM4 were $120 off, and the AirPods with Charging Case (2nd gen) were $30 off, which made them cost under $100!
Is Best Buy going to have Cyber Monday deals on phones?
Yes! Best Buy is consistent in offering some of the best Cyber Monday phone discounts and deals! Not only that, but unlike most retailers, Best Buy is likely going to start early with the deals too, so be sure to bookmark this page and stay tuned for updates! We'll have those sweet Cyber Monday phone deals from Best Buy right here for you, as soon as they begin rolling out.
When do the Best Buy Cyber Monday deals start?
They're on now! Although it's still Sunday at the moment, the retailer has launched its Cyber Monday deals early (as was expected). Now you can pick the best Cyber Monday deal on tech for yourself or to get a nice present for your loved ones on a bargain. The sale is on! Check above for the best offers right now.