Best Apple Watch Deals on Prime Day 2021
0
We may earn a commission if you make a purchase from the links on this page.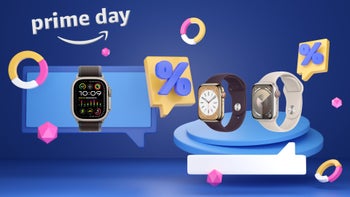 This article will be updated regularly as new Apple Watch deals go live
Amazon Prime Day 2021
is in full swing, with discounts on anything from TVs and cameras to headphones and smartwatches. The Apple Watch is also part of the show, and sales are live on both Amazon and big-box retail stores like Best Buy and Target. Of course, with so many stores and model options to choose from, finding the best Apple Watch deal can be tricky. That's why we've done the hard work for you. Below you'll find the best Apple Watch deals right now.
By the way, if you plan on shopping on Amazon this Prime Day, consider trying Amazon Prime. You get a free, 30-day trial and get to enjoy benefits like free fast shipping, early access to deals, and many other perks.
(30-day free trial)
Apple Watch Series 6 deals on Prime Day
The Apple Watch Series 6 is Apple's latest and most advanced Apple Watch. It is currently on sale at Amazon, but big retailers are matching Amazon's price for the shopping event. Here are the best prices for the most affordable Apple Watch Series 6, with a 40mm aluminum body and no cellular connectivity.
If you have a larger wrist, you might consider the larger, 44mm Apple Watch Series 6. These are the best offers right now for this particular model, with no cellular connectivity included.
Having cellular connectivity on your Apple Watch gives you the freedom to leave your iPhone behind and still get your phone calls or text messages. You can also stream music and listen to it on your
AirPods
– again, no iPhone required. Here are the best deals right now on the Series 6 Apple Watch with GPS + cellular connectivity.
Apple Watch SE deals on Prime Day
The Apple Watch SE was released as an affordable alternative to the Series 6. It didn't have the fancy blood oxygen sensor and it didn't have the latest chip, but it was over 100$ cheaper than the S6 at launch, which made it a compelling offering.
Things look a bit different right now. The Apple Watch SE is only $10 off on Amazon this Prime Day, and other retailers don't seem to have discounted the watch either. That's why the Apple Watch SE is hard to recommend over the more advanced, Series 6 model. Here's how the Apple Watch SE is priced for Prime Day:
Apple Watch Series 3 deals on Prime Day
The Apple Watch Series 3 is over three years old now, but it's still on sale at many places: on Amazon, Best Buy, even on Apple's official site. It's getting regular software updates and can do a lot of the stuff its modern siblings can. Activity and fitness tracking, maps and navigation, mobile payments, Apple Music playback – all are features supported by the Series 3. If you're looking for the cheapest Apple Watch right now, here's what a Series 3 would cost you: