AT&T goes for T-Mobile's jugular, labeling the latest 'Un-carrier' moves 'marketing stunts'
12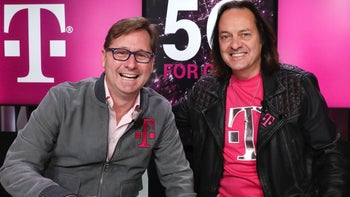 While T-Mobile is usually the one that likes to verbally assault its main rivals, with CEO John Legere drawing parallels between the nation's top two wireless service providers and the protagonists of a
classic 1994 comedy starring Jim Carrey and Jeff Daniels
on a number of occasions, the tables seem to have turned on the heels of yesterday's majorly hyped-up
New T-Mobile Un-carrier 1.0 announcement
.
Magenta actually
made several announcements
in the lead-up to a December 6 nationwide 5G rollout, and
AT&T representatives were far from impressed
with a couple of T-Mobile's customarily bombastic promises. Although the "Un-carrier's" plans to offer free 5G access to first responders across the entire country for at least 10 years, as well as free service altogether to 10 million households over five years to help "eradicate the homework gap", certainly sound honorable and heartwarming, there's one thing that might prevent T-Mo from fulfilling its noble goals.
Namely, pretty much every move and initiative unveiled yesterday hinges on the completion of
T-Mobile's union with Sprint
, which makes these things look an awful lot like "marketing stunts", at least in AT&T's view. The second-largest mobile network operator in the US claims to have a "deep and genuine commitment to connecting first responders and using technology to enrich education", which T-Mo does not as long as it's not willing to roll out its own programs designed to improve these areas with "no conditions or questions asked."
Now let's wait and see how long it takes John Legere to deliver one of his trademarks snappy comebacks. Our guess is no more than 24 hours.