Verizon scoops the best US carrier network title, followed by AT&T, T-Mobile and Sprint
12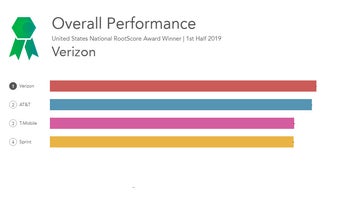 Well, that didn't take long. No sooner had the ink dried over T-Mobile's favorite testing entity report that
it has America's fastest network
, and Verizon counters with its own resident testers from
RootMetrics
showing the opposite.
You might chalk these habs off to the wonders of free market competition, but the two testing platforms couldn't be more different. While T-Mobile uses the crowdsourced reports of OpenSignal which favor big city downtown congregations, RootMetrics actually drive around the US to measure carrier network performance.
RootMetrics conducts millions of measurement points on off-the-shelf carrier smartphones - "
4 million drive tests in all 50 states
" this time around -, with hundreds of thousands of miles walked and driven across the US to gauge performance in and out of metropolitan areas.
A mobile network performance subsidiary of IHS, one of the largest research firms globally, RootMetrics has given us a sneak peek of its verdict on Verizon, AT&T, T-Mobile and Sprint's speed and reliability report for the first half of the year that will be out later this summer, and so far it's a win for Verizon, 12th time in a row. Here's Verizon's summary of the key findings in the RootMetrics test report:
Nationally, Verizon's network reliability RootScore was 96.4%, tops in the industry


We swept all 6 categories tested during the first half of 2018, now have won RootMetrics' overall network performance for 12 consecutive time


"Verizon continues state-level dominance, earning far more awards than any other carrier," according to the report. Verizon won or shared 263 State RootScore Awards out of a possible 300. This is the second straight test period Verizon has earned 263 State RootScore Awards, more than twice as many as the number 2 performer (AT&T), 7 times more than the third ranked carrier (T-Mobile) and includes 23 more outright awards than in the second half of 2018


In its metro area report measuring performance across 125 of the most populated cities around the country, Verizon earned 672 RootScore awards, the most by any carrier since testing by RootMetrics began


Verizon was unbeaten for overall performance in 120 of the 125 markets tested, or 96% of the time, higher than results in the second half of 2018


T-Mobile slipped to last place in reliability nationally and at the state level


Verizon's network performed best in 45 of 50 states...T-Mobile and Sprint did not have the best performance in any states
Perhaps the most important observation in today's RootMetrics report is that the gap between Verizon's network and the other US carriers is still growing. Things might change with the advent of a nationwide 5G rollout that gives a flying start to the spectrum frequencies that T-Mobile owns, especially if it
merges with Sprint
but for now Verizon seems to be the best in overall network performance in the US.
Recommended Stories