The Apple Watch Ultra 2 microLED display would cost twice but won't be twice as good
1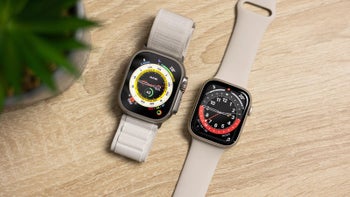 Apple may be gearing up to release a
microLED sequel to its rugged Watch Ultra
that will come with a brighter display made with the nascent technology. Apple has been investing in microLED research and development for years in the hope that the technology would one day be able to replace the OLED panels for which it now depends on Samsung and a few other smaller suppliers.
The task turned out harder than hoped, though, and Apple reportedly scaled its microLED ambitions down to using its first such panel in the Watch Ultra 2 slated for release next year alongside the
iPhone 16
.
Apple Watch Ultra 2 display price and specs
According to the first of its kind white paper detailing the viability of microLED displays for wearables, where they are scheduled to appear first, a panel of the kind that the Apple Watch Ultra 2 might use would cost twice what the current
Apple Watch Ultra
OLED display commands. If Apple currently pays suppliers like LG $20 for their Apple Watch Ultra screens with 1000 nits of peak brightness, a microLED equivalent with similar resolution would be at least $40.
Such a components cost increase would still be viable for premium products like the $999 Watch Ultra, and that is why Apple may have chosen its rugged timepiece line for microLED display technology introduction. For larger screens like those on the iPhone line, however, or panels meant for more affordable midrange devices, employing microLED displays would be very hard at the current state of their development and won't make much economic sense.
The reason is that, while in theory microLED chips would offer higher brightness with less power draw, in their practical application these characteristics won't be twice as good as those of the current OLED displays that Apple uses. The microLED screens would nevertheless cost at least twice as much, and that's in the best case scenario of the relatively small and with comparatively low resolution screens of the type used for smartwatches.
Not only would a larger microLED screen with higher resolution be prohibitively expensive to make, but its profit margins would feel a $20-to-$40 component cost jump much less on a $999 device. As per the the MicroLED Industry Association's white paper:
Taking all this into account, it appears that the microLED display, beyond a marketing advantage, will not be able to provide a real revolution in display quality or efficiency - but it could be an excellent step forward. This means that the price premium that device makers will be willing to accept will not be substantial.
This is why Apple may have taken the fateful decision to debut the microLED screen technology it has long prepared for prime time as an OLED dependency alternative, into the 2024 Watch Ultra 2 first. Apple did the same thing with OLED displays which it first bought from LG for use in its watches and then, when the technology matured and fell in price, rolled out to the iPhone with the iPad still to follow.
Apple is nothing if not cautious with the cost control over its device components, and rarely introduces an expensive new technology first. Thus, its eventual switch to microLED screens could take another decade after the Watch Ultra 2 introduction, especially if it doesn't offer drastically better experience than the current OLED panels it uses.
Recommended Stories