You can still replace your old iPhone battery with your own hands at $29
4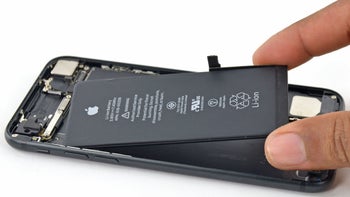 Apple faced an unprecedented flood of
iPhone battery replacement requests last year
as it offered a big discount to users impacted by the company's questionable
performance throttling practices
.
That means you can still
purchase a replacement battery
for your iPhone SE, iPhone 6, 6 Plus, 6s, 6s Plus, 7, 7 Plus, 8, and 8 Plus at only $29.99 a pop, compared to the $49 out of warranty fee currently charged by Apple.

iFixit even has owners of the ancient iPhone 4s, 5, 5s, and 5c covered, with respective replacement batteries, tools, and guides costing anywhere between $16.99 and $29.99. The obvious downside is you need to perform the "repair" yourself, which doesn't feel very convenient, although it's also nowhere near as difficult as some people think.
Another small inconvenience is the lack of support for Apple's iOS 11.3-introduced Battery Health feature with aftermarket batteries like the ones sold by iFixit. That simply means your operating system will not be able to display "health" information, with the actual cells guaranteed to "perform properly", at least at first.
A new battery could significantly extend the life of your old, increasingly slow iPhone, especially with the
latest iOS version
supporting models going all the way back to the 5s. Naturally, Apple would much rather you buy a new device, as
sales numbers
and
overall revenue
appear to have been badly harmed by the 2018 discounted battery replacement program.