Best iPhone 12 mini deals - updated January 2023
6
We may earn a commission if you make a purchase from the links on this page.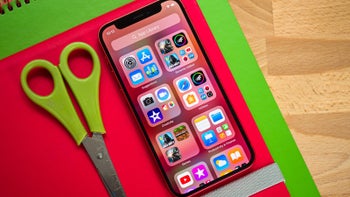 If you're looking for a compact yet powerful iPhone, the iPhone 12 mini is just for you! Apple has also released the
iPhone 13
in a mini version (and it, at least for now, is the final mini flagship iPhone from the company). At the same time, 2020's iPhone 12 mini is also nothing short of powerful and capable.
It's smaller than the
iPhone SE
(and has thinner bezels and generally looks just like the newest iPhones) and, on top of that, it is as powerful but at a
cheaper than iPhone 12 price
. Hey, even the display is a 1080p OLED panel, and it has the same camera set as the iPhone 12! However, it can still be a bit expensive for a two-year phone. Worry not! Deals on the iPhone 12 mini are available across all the major carriers right now. Verizon and AT&T currently have great offers for you if you've set your eyes on the mini.
Now, without further ado, let's jump straight into the iPhone 12 mini deals we have found for you in the month of January 2023.

By the way, you may want to also check our
best iPhone 13 deals
article, as the lineup also has a mini (the last iPhone mini for now), and many great deals are available there right now.
How much does the iPhone 12 mini cost with trade in and where can I buy it?
The iPhone 12 mini ($599 value) comes with good deals at AT&T and Verizon right now.
Okay, now onto the best iPhone 12 mini deals and offers!

AT&T iPhone 12 mini deal: get the 64GB version for just $1 a month!
Right now, existing and new customers of AT&T can get the iPhone 12 mini (all storage variants) with an epic discount. And what's even better, the carrier doesn't require a trade-in phone for you to benefit from this deal. You need only to pick an eligible unlimited plan and purchase the compact iPhone on an installment plan.
iPhone 12 mini 64GB for $1 a month (deal, without deal price is 17.50/mo.)
iPhone 12 mini 128GB for $5 a month (without deal, price is 18.89/mo.)
iPhone 12 mini 256GB for $10 a month (without deal, price is 21.67/mo.)
Apple iPhone 12 mini price, deals and availability on Verizon
Verizon is also offering generous deals for the smallest sibling in the iPhone 12 family. Currently, the compact and still powerful phone is available for FREE at Verizon. You need a new line and a 5G unlimited plan, but this deal is definitely worth it!
Apple iPhone 12 mini prices and deals on T-Mobile
Currently, T-Mobile doesn't have the iPhone 12 mini available. We'll check back to see if the carrier will replenish stock. If not, you have Best Buy's option to go for as well.
iPhone 12 mini deals at Best Buy
Currently, Best Buy is offering only carrier-locked iPhone 12 mini, and these phones sell at their retail price right now. When new deals show up, we'll make sure to include them here so don't hesitate to bookmark this page if you're hunting for the best iPhone 12 mini deals.

Once you have your new iPhone 12 mini, don't forget to check out our cases and screen protector selections for your new iPhone. Also, the iPhone 12 mini comes with MagSafe support, so you can also choose a useful and cool MagSafe accessory for it: