Get 3 months of Amazon Music Unlimited access for the total price of $0.99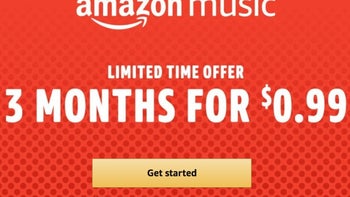 Spotify
and
Apple Music
have been
growing at such a staggering pace
over the past couple of years that it sometimes feels the two platforms are the only ones that count for music streamers around the world.
Both
Deezer
and Amazon Music Unlimited are offering killer deals right now that allow new subscribers to get full access to the two services' premium tiers for 90 days at a measly $0.99.
For Amazon Music Unlimited, this marks the revival of
a promotion from a few months ago
, only now you don't have to be a Prime member to take advantage of this awesome bargain. Just keep in mind that after your promotional three months, you'll be charged $7.99 every 30 days if you do subscribe to Prime services and $9.99 if you do not. Or you can just cancel your Music Unlimited subscription and never pay a penny over your initial $0.99 fee.
The special offer's terms and conditions are oddly vague, so we have no idea when this is set to expire, but typically, these things run throughout the holiday season. Apart from being a new customer, it doesn't look like you'll have to meet any special requirements or jump through hoops of any sort.

With Amazon Music Unlimited, you get access to a rich library of "tens of millions" of songs, ad-free with unlimited skips, as well as exclusive add-ons and neat features like Alexa-controlled hands-free listening. Oh, and you can also listen offline to your favorite tunes. Why not give it a try and see how you like it as a possible Spotify or Apple Music replacement for your phone, tablet, or desktop computer?