Xiaomi Mi 5 rumor review: specs, features, release date, and everything else we know so far
14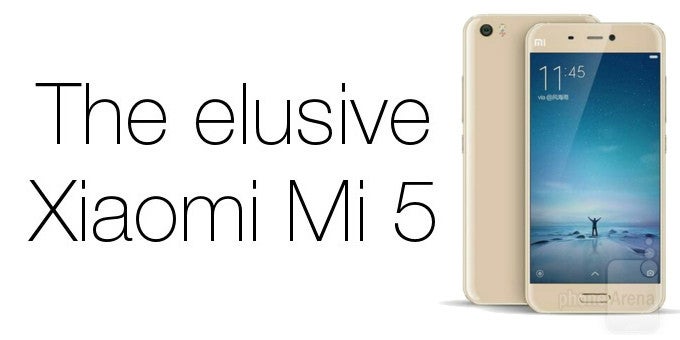 Despite unleashing a couple of top-end phones (Mi Note, Mi Note Pro, Mi 4i), Xiaomi did not release a flagship smartphone in 2015. Yes, we witnessed the arrival of the Xiaomi Mi 4i and the so-so Mi 4c, but the anticipated Mi 5 remained a mirage of sorts. Interestingly, the rumor mill never ceased to come up with possible release dates for the device; actually, there were a couple possible dates during each of the preceding months. However, Xiaomi kept mostly mum and unveiled no Mi 5.
However, the rumor mill has quickened the pace at which it churns out new hearsay and is claiming that the device, which is codenamed "Gemini" might finally see the light of day on January 21, 2016, and get released in February 2016. As this possible release date is merely a month away, we decided that it's high time we summarized everything we know about the device and show you the full picture - design leaks, rumored specs, price, and all. Let's go!
TL;DR
The article right below is a bit lengthy, here's the nitty-gritty in a few words:
Design

: Thin bezels, physical home button, various color options.

Hardware

: We'd be surprised if the Mi 5 doesn't come with a Qualcomm Snapdragon 820 chipset and at least 3 gigs of RAM.

Display

: Currently, we are expecting a 5.2-inch 1080p or 5.3-inch Quad HD display on the Mi 5.

Camera

: A 16MP camera is expected to make the rounds on the Xiaomi Mi5.

Release

: January or February 2016, most likely.
Contents:
Design
Just a couple of weeks ago, we got hold of some rather believable and official-looking leaked renders of the Xiaomi Mi 5, which offer us a pretty good view of its design. Just as we supposed, the handset will indeed come with a fingerprint scanner, but this one won't be situated on the back like it was on the Redmi Note 3 - Xiaomi has decided to put it on the front of the phone this time around. It's embedded in a physical home button, though it's not certain whether this one is clickable in a Samsung-like fashion, or merely tappable like on the OnePlus 2.
It looks like the Mi 5 will employ a metal frame, complemented by what seems like a glass cover that is slightly curved near the side edges, similar to the Xiaomi Mi Note Pro and the Samsung Galaxy Note 5 to some extent. The positioning of the camera and the dual-tone LED flashare in the upper left corner of the phone's back are somewhat similar to what one can find on an iPhone 6 or 6s, though the flash of the Mi 5 is oval and not circular
Another design feature that allegedly becomes clear is the range of colors Xiaomi might launch the Mi 5 in. Black, white, gold, and pink all seem to be a go. Nothing surprising here - it looks like this color lineup has already become a standard for most of the manufacturers nowadays.
Qualcomm's Sense ID ultrasound fingerprint scanner on board?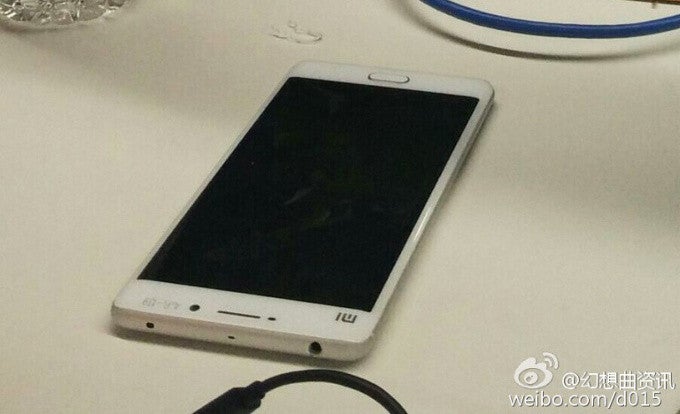 Developed by Qualcomm, Sense ID Qualcomm Sense ID is a new type of fingerprint recognition technology that uses an ultrasonic sound waves to get an extremely detailed map of your fingerprint, much more detailed than the map that one can get via the traditionally used capacitive fingerprint sensors (in devices like the iPhone 6, for instance). According to the rumor mill, the Mi 5 might be the first commercially-available device to feature this promising new technology.
Hardware
Xiaomi Gemini as spotted at GeekBench 3

The first one with a Snapdragon 820 inside...
Reportedly, a Qualcomm Snapdragon 820 chipset will be ticking inside the Xiaomi Mi 5. This rumor has been making the rounds time and time again, and we even have a couple of benchmarks that show us the chipset in question in action on a Mi 5 unit. As we mentioned earlier, a "Xiaomi Gemini" device made the rounds on Geekbench's benchmarking suite more than a month ago, revealing some admirable single- and multi-core performance, as measured by Geekbench's tests.
We suppose that the Xiaomi Gemini is nothing else but a high-end device, most likely the Mi 5, as the chipset powering it ("msm8996") stands for nothing else but the Snapdragon 820 chipset. And we are certain that Xiaomi won't put that silicon in just any handset. Additionally, it looks like Xiaomi doesn't want to hurry things up and become the very first OEM to ship a Snapdragon 820 device. Just recently, Xiaomi's CEO revealed the company will be taking its time and
"put greater importance on the user experience and mass production, rather than being first".
Nice!
Helio X20 Mi 5 allegedly put through AnTuTu testing

... Or should we say "Hello, Helio X20"?
However, given the latest rumors regarding Samsung's alleged exclusive "hoarding" of the Snapdragon 820 until its S7 flagship is out, Xiaomi might have to fall back to MediaTek's 20nm Helio X20 chipset, which is an upper mid-range chipset at best.
It's certainly not in the Snapdragon 820 league, but Xiaomi might have to fall back to it if Samsung keeps the SD820 goodie for itself. Still, this rumor seems a bit unlikely to us.
Regardless, a leaked AnTuTu benchmark allegedly showing us the performance of a Helio X20-boasting Mi 5 device was circulating around back in August, suggesting that Xiaomi might have experimented with this chipset in particular.
As far as RAM is concerned, we heard that it might be adorned with either 3 or 4GB of RAM. Xiaomi already has a 4GB device in the cards, the Mi Note Pro, so the Mi 5 is quite probably going to pack the same amount of RAM in order to keep the Mi 5 well-endowed for the never-ending specs race. Of course, there is some hearsay about 4 gigs of RAM for the phone, but these might turn out to be merely wishful thinking.
Display
Real estate size? Most likely 5.2 inches
It seems that the Mi 5 might come with a 5.2-inch display, if some of the recent and not-so-recent rumors are to be believed. That's not surprising - Xiaomi has a couple of phablets on the shelves, the Mi Note and the Mi Note Pro, which feature large, 5.7-inch displays, which means that the Mi 5 can safely dwell in the smaller-sized category.
LCD vs AMOLED
We are most likely dealing with an LCD unit, though we've heard a certain rumor claiming that the Mi 5
might employ an AMOLED screen
. Xiaomi has not made a phone with an AMOLED device so far, so the Mi 5 might turn out to be a pioneer. Still, we are a bit more inclined to think that the Mi 5 will arrive with an LCD one up front.
Could Xiaomi stick with a 1080p panel?
As far as resolution is concerned, we have mostly heard that 1080 by 1920 pixels might continue to reign supreme in Xiaomi's flagship line. Regardless, hearsay about
a Quad HD display also made the rounds
, several times in fact. Xiaomi has some Quad HD devices in the portfolio, namely the Mi Note Pro, but we find it quite plausible that Xiaomi might put a high-res 2K display on its Mi 5, too. This is what the recent rumors have in store for us, and until the phone becomes official, we have to abide by the rumor mill's rules.
Synaptics-made Force Touch display reportedly on board
It seems that Xiaomi might take a page out of Apple and Huawei's books and adorn its next flagship with a pressure-sensitive display. Reportedly developed by Synaptics, the display of the Mi 5 will be able to discern between light taps and deeper presses, which could potentially unlock a whole new level of functionality for Xiaomi's MIUI user interface. Probability status - quite likely!

Camera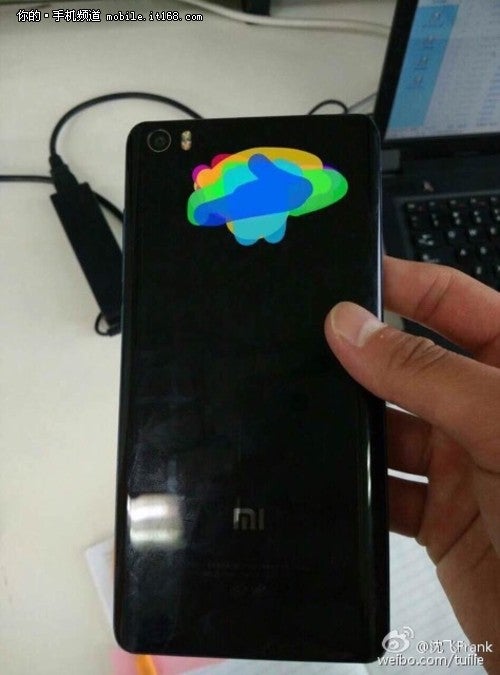 As far as the camera unit of the Xiaomi Mi 5, we heard that it might be a 16MP snapper, probably a Sony-made one (IMX240, anyone?). A dual LED flash might be aiding the camera in its low-light endeavors, which is quite plausible to turn out to be the real deal.
We also stand hopeful that the camera will feature a phase detection autofocus feature - it was present on the Redmi Note 3, so we are keeping our fingers crossed and suppose that the Mi 5 might also score said autofocus feature. That said, we've heard no rumors about this yet, so we will have to keep our hopes high until Xiaomi decides to spill the beans.
At the front, we are not quite sure what to expect, but we'd expect Xiaomi to put at least a 5MP snapper. And why not an 8MP one? If certain sources are to be believed, this might turn out to be true. Such a lavish snapper at the front will most likely improve the selfie game of the phone immensely, though megapixels are not the single most important metric in photography.
Price, release date, availability
January, February, or...?
It seems the Xiaomi Mi 5 might get unveiled on either
January 21
,
February 20
, or... anywhere in-between, actually. At this point, it's up to Xiaomi to decide, as we've run out of possible release dates. As far as market release is concerned, we heard that the device will be available rather shortly after it gets official - our sources claim that it might get released a day after the announcement, with
more than enough stock
to meet the demand right out of the bat.
Might cost below ~$400
What about the pricing, though? Just recently, a rumor hit us, claiming that the Xiaomi Mi 5 will be priced at about 2499 Yuan, which converts to roughly $385. While the alleged pricing of the phone is not as aggressive as the rest of the company's devices, it might offer some great bang for the buck, especially if the majority of the rumors mentioned above turn out to be true.
Availability-wise, we've heard numerous times that Xiaomi is prepping itself to land on the Western markets, and it seems like the logical evolution of the company. The Chinese market is already getting a bit overcrowded, with countless competitors trying hard to sell cheaper and better-spec'd phones than Xiaomi. We don't know whether the Mi 5 will be in Xiaomi's Western-bound vanguard, yet we shouldn't rule out this possibility either.