Would you prefer an Optimus G over a Galaxy S III, if there was no marketing?
74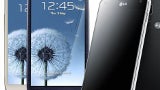 Here's an interesting experiment that we thought of. Imagine that we live in a world where our beloved device manufacturers cannot use that powerful tool called "marketing". Of course, this would mean that they can no longer convey special messages through advertising, and no more buzzwords or silly little brandings that make a basic feature sound a lot cooler that it really is.
Now, having put ourselves in this most unimaginable situation, we wonder if this would make any difference in our preferences. Actually, it's pretty hard to imagine that it won't. With absolutely no marketing tricks being played on our minds, we'd have to judge devices solely by what we see. Still, since the specs sheet isn't a part of marketing, it'll also have to remain a factor here.
Interestingly,
we recently made a similar experiment
, and it proved that if users were to choose a handset based on specs alone, the
LG Optimus G
, which is LG's upcoming flagship model, easily wins in comparison with the
Samsung Galaxy S III
, which is one of the very best Android smartphones right now. This isn't a specs comparison here, though. We already know what both devices looks like, and what features they are going to pack. Sure, the Optimus G hasn't been released globally yet, but it's fairly easy for all of us to imagine what it's going to be like - super-fast and powerful, with a superior specs sheet and a different design. However, there's more to a phone than this. What about the software experience? LG has never been particularly awesome in this respect, while Samsung has made some substantial advancements lately, optimizing its software and adding a bunch of features to expand the functionality of its devices. LG has also added some cool software stuff, but there simply hasn't been that much excitement surrounding its products.
So, LG Optimus G, or the Samsung Galaxy S III? Remember, no TouchWiz, just a user interface; no HD Super AMOLED, just an AMOLED screen; and no Crystal Reflection for LG, just an oddly textured material that should be glass, or something like it. Which one are you going to choose? Will it be the Optimus G with its newer Snapdragon S4 Plus processor, or will it be the Galaxy S III with its slightly bigger screen and intriguing software features?
This here should be the right moment to mention that we've chosen this titled for the post and poll, because although the Optimus G is clearly superior to the Galaxy S III, we're still convinced that it won't sell as much as Samsung's device. We're not saying that the Galaxy S III doesn't deserve it, we're just saying that a significant part of its success has to do with Samsung's overwhelming market presence.
Trying to forget who Samsung and LG are, and solely focusing on the actual devices, which one are you more likely to pick up from the shelf?