Windows Phone gets 55 feet tall replica in Manhattan, giant banner in France
7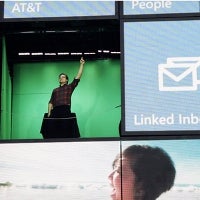 Microsoft and OEMs are firing on all cylinders
marketing Windows Phone, just as promised
, and New Yorkers can see one result in the form of a giant 55 feet tall handset, complete with Live Tiles and everything.
The 60+ inch screen standing on Herald Square in Manhattan sports 1088x666 pixels of resolution, and one of the Tiles turns around to load up with
live performers
, which people can watch for free a few times during the day.
It's stunts like these, together with events like the one we went last night in NYC, that will be drumming up excitement about Windows Phone, but ultimately work with carriers and retail salesmen that will determine its success in the stores, and
Microsoft seems to be working on both ends
, training 200 000 mobile sales people worldwide into the wonders of its mobile OS, and including incentives to boot.