Windows Phone Tango to be sailing smooth with 256MB of RAM only, and include folders
13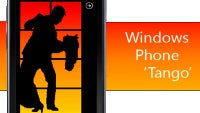 If you were wondering how exactly will
Microsoft go about with Windows Phone supporting entry level devices for emerging markets
, which Nokia is so popular with, wonder no more.
Turns out that the upcoming
Windows Phone Tango update
, besides lower screen resolutions, which we've heard from the very beginning rumors about it started, would also bring in the possibility to run well on less RAM, to the tune of
merely 256MB
, which is what 2010 Symbian devices like the
Nokia N8
are using, for example.
Current Windows Phones, even the
Lumia 900
, sport 512MB of RAM and 480x800 pixels of resolution, as these are Microsoft's requirements, so introducing support for cheaper screens with lower resolutions, 256MB of RAM, and, presumably,
CPUs slower than the 1-1.4GHz units
we currently have, is likely to lower the price of entry level WP handsets significantly.
Which is precisely the point of the Windows Phone Tango update. Word on the grapevine is that Tango will also include
support for folders directly on the start screen
, and
UI tweaks
that will shrink the media controls and list them almost as small as notifications, so they don't take up that much space.
It's not entirely clear if the new 256MB of RAM allowance will result in less flashy UI for the upcoming wave of entry level Windows Phone devices with Tango, whereas the more capable brethren will keep all UI bells and whistles, or if Tango will be optimized across the board to look the same on all devices, but just be speedier on more powerful gear.
Anyway, it's pointless to guess, since
Mobile World Congress is just a few weeks away
, and we should know more pretty soon. Oh, and if the 256MB of RAM allowance materializes, it will confirm the change in Microsoft's mentality - with Windows 7 and especially Windows 8, Redmond actually focused on cleaning and optimizing the code, as opposed to demanding you buy a newer machine every time a major Windows version is out. Sign of the times.
via
TheVerge