Will it bend? iPhone SE looks weaker in controlled stress test than iPhone 6s
23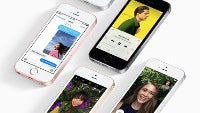 In the grand scheme of high-profile tech 'fails', the
iPhone 6 duo
's supposed
susceptibility to bending
remains relatively fresh in the mind. Though, in retrospect, issue
only affected a couple hundred
of the
millions of early iPhone 6 owners
, the internet did itself proud in ensuring the story grew into a meme, and subsequently,
#Bendgate
ensued. By the the time
iPhone 6s
and
6s Plus
had made their way market late last year, most had long forgotten the early fanfare that accompanied their predecessors, though Apple still made
some key design changes
to bolster its latest and greatest. While the new
iPhone SE
is smaller and thus, in theory, should be less likely to bend, controlled tests show that the device is actually weaker than the svelte iPhone 6s in this department.
Although Apple wanted to ensure that the 6s and 6s Plus did not re-ignite those Bendgate rumors, the
just-launched iPhone SE
is aesthetically based upon the
iPhone 5s
, which never had such reported issues. It would seem that the new 4-incher has been crafted in a similar fashion to the now-discontinued 5s, and whilst it is unlikely to bend in your pocket,
SquareTrade
's tests have found that it takes less weight to bend it out of shape than the current flagship.
SquareTrade, being a warranty provider, carriers out methodical lab-style stress tests rather than the typically more arbitrary drop, scratch and torture clips we tend to see. Though the iPhone SE is thicker than its flagship counterpart, you'll see below that it buckles under 60 lbs (73 kg) of pressure -- 10 lbs less than the iPhone 6s put through the same test.
The video runs the iPhone SE, iPhone 6s and 6s Plus through an entire assault course that includes drops and submersion in water. On the whole, the video demonstrates that despite their strong points, Apple's iPhone line-up is not particularly rugged, though the 6s Plus is the toughest of the most-recent trio: