Leaked shell suggests iPhone 6s will be tough enough to prevent a 'Bendgate 2'
95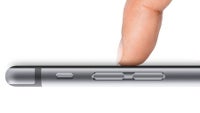 The Bendgate 'saga'
, as you may remember, gained significant coverage in the early days of the
iPhone 6 Plus
. One or two early adopters reportedly claimed that the handset was bending out of shape, and YouTube channel Unbox Therapy subsequently proved that if you
really
wanted to, you could indeed fold the device by applying a fair amount of strength. The whole episode, which prompted Apple to
step out and defend
its prized asset, was nothing more than a storm in a teacup, and since the initial furore died down, there's been little to no mention of iPhones bending unduly. Back in April, it was noted that Apple
might look to strengthen
its next smartphone with tougher aluminum alloy. As per a new video from none other than Unbox Therapy, it seems that the next-gen handsets will be made of tougher stuff.
Assessing a leaked backplate of what most refer to as the
iPhone 6s
, the video suggests that key design considerations have been made. Comparing the shell versus that of an iPhone 6, certain weak areas within the current model's frame seem have been addressed. The spot around the volume buttons -- the point at which the iPhone 6 Plus caved during the aforementioned Bendgate video -- is apparently twice as thick on the iPhone 6s, and it's fairly safe to assume the 6s Plus will do likewise.
Intriguingly, the iPhone 6s shell weighs in slightly less than that of its predecessor. It has been reported that the device
will be marginally thicker
than the current model, but if the Unbox Therapy clip is anything to go by, it could also be less weighty.
Take a look at the clip below, and let us know of your take via the comments.