Will apps automatically update on Android 2.2?
This article contains unofficial information.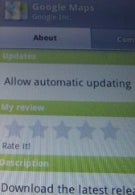 2.1
so lacking in features that the mere mention of a possible upcoming upgrade for the Nexus One to the 2.2 build has everyone so excited? A user from the 4chan forum board, claiming to be an "Android trusted tester", posted screen shots of what supposedly was a myTouch 3G running Android 2.2. And while pictures can be faked, there is one photo that looks interesting if real. You will notice that the picture below for Google Maps has an option for the user to allow automatic updating. Yeah, manually updating 30 apps when you turn on your Android phone first thing in the morning isn't the end of the world, but it can be a bit annoying. Having the updates done automatically is just one more step that the Android OS can do to make your life easier. And while we're at it, why not have the option to rollback to the apps last build just in case the new one keeps freezing up your handset or just doesn't work. One thing that automatic updates will bring to the open source OS is a reduction in fragmentation. Instead of different people using different Android handsets using different versions of an app, automatically updating them could put all users on a level playing field. And maybe we need to focus on what these pictures really mean which is to say that we could be close to the Froyo 2.2 version of Android. As we previously
reported
, Google's I/O conference, which opens May 19th, would be a great time to offer the update with attending developers getting a
free DROID or Nexus One
. And if the OS is being changed,well why not throw in Flash 10.1 at the same time? Just asking.
T-Mobile myTouch 3G Specifications
|
Review
Motorola DROID Specifications
|
Review
HTC Nexus One Specifications
|
Review
source:
4chan
via
Phandroid