Is Android 2.2 being tested?
This article contains unofficial information.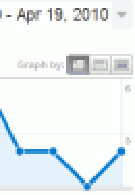 When the Nexus One launched early this year, it was the only handset to feature the Android
2.1
OS. But now, we have seen the Motorola DROID get upgraded while many of the new Android releases like the HTC Desire and the soon to launch Droid Incredible come with Android 2.1 out of the box. Add to this the number of later generation devices that will be soon getting upgraded, and the N-One has lost the advantage it once had. But this is seemingly about to change. With talk circulating that the Nexus One will be getting an OTA firmware upgrade to Android 2.2 (code named Froyo), there is some analytic evidence from the Android and Me site that Google has been testing the next Android OS build during the last 2 weeks. And while it is possible to fake the data, Android and Me says that sources familiar with the situation have confirmed that Android 2.2 is being tested.
Google has stopped making a public roadmap for upcoming versions of Android which means we can only take a stab at what it might include. The early word is that the new OS will focus on enhancing performance. Some of the possible features include Flash 10.1, free additional RAM thanks to the new Linux kernel, FM radio, JIT compiler to run software faster, activation of color trackball and enhancements for OpenGL ES 2.0. Adobe has recently said that the Flash 10.1 upgrade for certain Android units will be out in the first half of this year. It is quite possible that it could be sent as an OTA update along with a firmware upgrade. While no date has been set for the launch of the new OS build, May 19th is the first day of the Google I/O conference and, as we
reported
, attending developers have been promised a free DROID or Nexus One by Google. That would be a perfect time for an upgrade. Of course, here we are talking about Android 2.2 and DROID owners are just getting used to 2.1.
HTC Nexus One Specifications
|
Review
HTC Desire Specifications
|
Review
Motorola DROID Specifications
|
Review
HTC Droid Incredible Specifications
|
Review
source:
AndroidandMe