Who's afraid of the big bad smartwatch? Not Swatch
17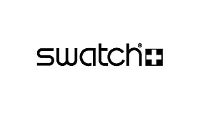 While 2013 saw a number of smartwatches get released, including
the crowd-funded Pebble
, the
Qualcomm Toq
and the Samsung Galaxy Gear, things are really supposed to pick up this year, especially with watches due from LG, Nokia, and
if the problems can get ironed out
, Apple. You might think that this could lead to the death of some fashion watchmakers, but at lest one "traditional" timepiece producer, Swatch, see this as an opportunity.
While we just called Swatch "traditional," its designs really aren't. Swatch sees the smartwatch craze as a chance to get the person wearing nothing on his wrist, to try wearing a watch. Soon, that person might decide to switch to a more fashionable timepiece like the ones that Swatch sells.
"The smartwatch is an opportunity for us, whatever happens. If people who never used to wear anything on their wrist start wearing a so-called smartwatch, then we certainly can convince them quickly to try wearing a beautiful watch instead."
-Nick Hayek, CEO, Swatch
Swatch did sell something akin to a smartwatch about 10 years ago after inking a deal with Microsoft. The Swatch Paparazzi used radio signals to receive stock quotes, sports scores, horoscopes and news. Swatch CEO said about the product, "
We have all the know-how but we do not want to build up stock of technology bombs people won't want to buy
." Meanwhile, luxury watch makers aren't losing sleep over the smartwatch craze as they are aiming at a different market than the tech companies making smartwatches are.
source:
Reuters