Qualcomm Toq goes up for pre-order for $349.99
15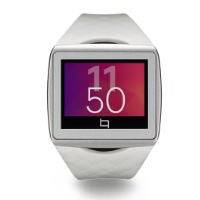 We still don't really know much about what to expect with the Qualcomm Toq as far as functionality, apps, or compatibility; but, earlier this month Qualcomm announced that the smartwatch would be going on sale
December 2nd
for $349.99. If you're really excited about the Toq (and, if you are, please tell us why in the comments), Qualcomm has put it up for pre-order.
The pre-order right now is only for the black version of the watch, the white model still isn't available. The Toq is promising a Mirasol display (which is legitimately something that we're interesting to see), "multiple days of battery life", a wireless charging dock, and a buttonless interface. It has a 1.55-inch display, and weighs just 3.2 ounces. It will require Android 4.0.3 for smartphone connectivity, but Qualcomm said it is considering iOS support in the future.
Of course, whatever is promised, $349.99 is a tough price tag to swallow for a device that still has so many question marks around it. It is more of a proof of concept for Qualcomm though, and isn't expected to find a wider market.