Apple iWatch running into more problems; production yield less than 50%?
18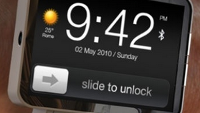 Apple and Qualcomm both are reportedly having a problem building their smartwatches. Both companies are said to have yield rates under 50% for the Apple iWatch and the Qualcomm Toq. Reports from the upstream supply chain say that the problem has to do with spraying treatments on their metal injected moulded chassis (MIM). This process is often used in "
the production of high-precision products with complicated industrial designs
," and allows products with special shapes to remain rigid.
Surface treatments for MIM were relatively unheard of until the components started showing up on the outside of devices, and required special treatment. And with companies like Apple trying to lock up long term supplies for some parts, suppliers are having problems accommodating everyone. While
Qualcomm has already launched its Toq smartwatch
, other manufacturers besides Apple expecting to release one this year include Sony, Casio, Nike, Adidas, Epson and LG.
The below 50% production yield that Apple and Qualcomm purportedly have grabbled with, means that out of 40 watches being built, less than 20 make the cut and can be sold. This isn't the first time we've heard of problems with Apple's iWatch. During the summer, Apple was rumored to be
hiring new engineers to help it get past a design problem
that it was having with the product.
source:
DigiTimes