Which smartphones can T-Mobile customers buy for LTE service?
22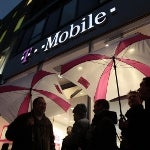 T-Mobile is expected to soon flip the switch that
turns Las Vegas into its first LTE covered market
and that will apparently be
followed by a launch in Kansas City
. T-Mobile is following the same trail that it blazed through when it
updated its 1900MHz to HSPA+
which is Las Vegas, Kansas City, Baltimore, Houston and Washington D.C. The carrier expects to have 100 million POPs at the mid-way point of the year, closing out 2013 with 200 million people blanketed with its LTE signal.
Samsung GALAXY Note II
and the
Nokia Lumia 810
will
both require software updates
to turn on their internal LTE radios. While T-Mobile says that it will be done, the
timing is uncertain
. Ah, the third phone with possible LTE connectivity is the...
Google Nexus 4
.
The device does support LTE over Band 4 (1700MHz AWS)
but this would not only require a software update, it would also require FCC approval which the hard to find handset does not yet have. That means use of the Google Nexus 4 over LTE pipelines is currently against the law. As far as upcoming models are concerned, there is talk of a revised version of the
Samsung Galaxy S III
that will be LTE enabled, and of course the big news hog of Wednesday, the
BlackBerry Z10
will also launch with LTE connectivity.
If you live in one of the cities we mentioned earlier, you might want to consider looking at an LTE enabled model soon. Otherwise, you probably have time left with your current phone, enjoying the still fast HSPA+ 4G that T-Mobile provides.
source:
Engadget