Which Jelly Bean feature you like most?
33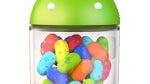 The first Google I/O keynote is over, and man what a show that was! We got introduced to the new Android version - Jelly Bean, the new Nexus 7 tablet, Nexus Q multimedia streaming device AND a one-of-a-kind demo of Project Glass, featuring a bunch of sky-divers, bikers and wall-climbers. It was a pretty crazy stuff, but let's get back to what's actually most importnat to us at PhoneArena, and that it Android.
Android 4.1 Jelly Bean comes with a number of very cool features that will definitely improve the experience on an Android device in a big way. Thankfully, the release won't be as tablet-centric as some reported, so our phone will also be able to take advantage of the new goodies. That's in case they get updated, of course... it not, we guess we'll just have to buy new ones. But anyway, the point is that we saw some really cool new features demoed today, and wanted to know which one you guys like best, or which one you think is the most important. Now's the chance to share your opinion with the world! Of course, if there was something that you think Google should have added with Jelly Bean, but it didn't, don't hesitate to say what it is by posting a comment below.