Google Nexus 7 tablet is announced, 7 inches of Jelly Bean goodness for $199
35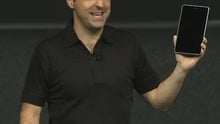 Well, what do you know: the
Google Nexus 7 tablet just got announced
during the opening Google I/O 2012 keynote. The slate has been made in partnership with Asus.
So what is so cool about the
Google Nexus 7
? Let us start with some hardware specs: just as rumors predicted, a quad-core Tegra 3 processor is what hums underneath its hood, so chances are that performance won't be an issue with this slate. Another thing that the rumor mill managed to nail is the dispay - 1280 by 800 pixels, 7 inches in diagonal. There is a front-facing camera for video chats, and hooking up to the internet is possible via Wi-Fi. NFC connectivity also comes standard. The battery inside the tablet should be capable of providing up to 9 hours of video playback, and if left in stand-by mode, it will take 300 hours before the cell needs a recharge. All of these goodies are encased within a lightweight 340 gram body. Unsurprisingly, Android 4.1 Jelly Bean comes pre-installed.
But hardware is nothing if it isn't backed up by quality software features. The Nexus 7 tablet has been made to get along perfectly with the Google Play store. That is why the content you have purchased is displayed right on your home screen. Speaking of content, magazines are coming to Google Play, in addition to books and movies. Of course, all your digital books, magazines, and video are available for offline use. But what if you are not sure what the next book, movie, or game in your library should be? That choice is being made easier with the newly-added recommendation widgets.
By the way, have you ever thought that the stock web browser in Android leaves a lot to be desired? Then you would be pleased to know that Google Chrome is the default web browser on the Google Nexus 7. Another software tweak that is more than welcome is the redesigned YouTube app, which has been optimized for use on a tablet. But that is not all: the Maps application has been tweaked as well, offering more detailed information about the places you are viewing. But most importantly, map data can be stored for offline use.
Gaming, anyone? The Google Nexus 7 has you covered. After all, that Tegra 3 processor has plenty of processing power that can be put to good use, you know. During the presentation, Dead Trigger was shown off, which is an intensive first-person shooter optimized for Tegra 3 devices. Seeing such a title running on this tablet is impressive, considering how much it costs (more on that in a bit).
By this time, we bet you are wondering how much that Google Nexus 7 tablet will set you back. Well, not much, considering what you are getting. The tablet is available for pre-order from the Google Play store bearing a $200 price tag. That is for the 8GB model, and if you prefer the one with 16GB of storage, prepare to spend $250. In addition, $25 worth of Google Play store content will be thrown in as a bonus. Interested? Then head over to the
Google Play store
and check it out. Your order should arrive at your doorstep by mid-July.
Images courtesy of The Verge