Android 4.1 Jelly Bean is announced, waves goodbye to lag
99+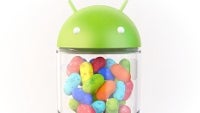 Android 4.1 Jelly Bean
is now finally official after months of leaks and rumors, and it finally makes a huge step towards becoming buttery smooth and refined all around.
The first side of the Jelly Bean update is the way it interacts with
hardware
. One of the main complaints with Androids is that it often gets laggy even on the most sophisticated devices. Google has finally radically addressed this so manufacturers and developers can make their devices
lag-free
. The solution is called Project Butter and it comes with triple buffering so that the CPU and GPU work without waiting for each other. This means scrolling, zooming and virtually all actions become much faster.
Jelly Bean devices will actually anticipate where fingers are in screens which will results in a
more responsive system
.
The other big thing is
power efficiency
. Jelly Bean now dials the CPU back to lower frequency when it's not in use.
When it comes to pure software features, Google has plenty in their plate. First come
widgets
that will now automatically resize as you move them across screens. You no longer need to worry whether you have enough space on that screen - the widget will automatically fit. Android is also getting 18 new languages, with better Arabic and Hebrew support.
Voice typing now becomes completely network independent. It's now squeezed into the system so you can dictate to your Android device even when you don't have coverage.
Offline Voice Dictation
will launch in English initially, with more languages coming along the way.
Jelly Bean now comes with an
improved voice search
. It leverages the knowledge graph Google's search engine has built and responds to all your questions in a pretty natural, almost non-robotic voice. You can ask it how tall the Seattle Space Needle is, or... look for pygmy marmosets images! The whole contextual search is called Google Now - it knows that you usually go to the gym at specific times so if you have a flight on the same day and it's delayed it will know that you have time to work out.
While ICS introduced us to the first zero shutter lag cameras on Android, the new JB camera app introduces the
gallery to swiping gestures
. This means that you get a film strip view to quickly review your photos and deleting them is as easy as swiping up.
Notifications
are becoming even richer with Android 4.1 JB, with more information about your unread messages. Notifications now expand and collapse, and can be tweaked by the user.
Finally, the Samsung Galaxy Nexus, Nexus S and Motorola Xoom will be the first devices to get the update over the air. The Android 4.1 Jelly Bean release date is set for mid-July for those first devices.
Best of all, developers can now get the Android 4.1 Jelly Bean SDK right away. There will be another development kit, the platform DK (PDK) for manufacturers, that has been made available to some phone makers for a couple of weeks now. It will routinely be made available to them a couple of months in advance of a new version release.
source: Google
All images courtesy of TheVerge.