Project Glass gets the craziest live demo we've ever seen: watch a video here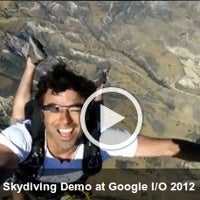 Google just shattered the scene at the Moscone Center in San Francisco with chief dreamer Sergey Brin bringing in skydivers, bikers and wall climbers all together for definitely the most extreme and jaw-dropping demo we've ever seen.

If you didn't see it live - we'll spoil it a bit now. Google had skydivers in a live hangout jump on the Moscone Center roof. From there on bikers took over, relaying to wall climbers going down the wall and finally more bikers arriving on scene. The whole thing was live all the time on a hangout for the thousands at the I/O keynote.
source: Google