Google outs Nexus Q - a gleaming ball that streams media around your house
7
Oh look, Google's Project Tungsten just got round! Google is certainly starting to pay attention to the design of all products with its logo on them, judging by the just-announced
Nexus Q streaming media device
. The cool ball-shaped Nexus Q is powered by Android and can connect to all your content stored in the cloud, and stream stuff from your account and Google Play to your home stereo or HDTV.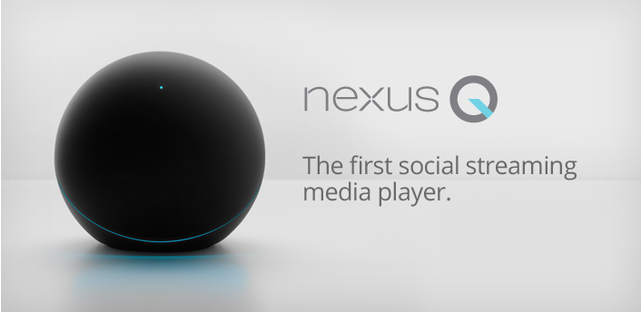 Naturally, you can control the streaming coming from this sphere, powered by an OMAP4460 processor via your Android smartphone and tablet. NFC, Wi-Fi, and Bluetooth are onboard, along with 16GB of storage and 1GB RAM. It has a 25 watts amplifier built-in, plus also optical digital audio and microHDMI output ports for hooking up to speakers and TVs. Google's engineering head Joe Britt said: "
The engineer who designed the amp is really into tube amps. He's an amplifier aficionado. I think a lot of people are going to be surprised by how good it sounds when you pair it with a decent set of speakers.
" Speakers are naturally coming as an additional accessory later on.
This is also the first hardware piece entirely engineered and made in-house by Google, just showing what these guys are capable of when they leave coding for a while and turn to soldering and wrapping it all in an appealing consumer product. The device is entirely made in the US, and sports pretty unintrusive controls - turn the cap for volume control, or just touch the dome to mute or play.
You can play YouTube videos, movies from the Play Store, share and shuffle music with your friends, and so on. The LED light around the sphere blinks in sync with the music in various colors, and you can daisy chain a number of GQs wirelessly in multiple rooms of the house. Anyone can overwrite or rearrange the playlist created, even the host's songs, bringing a pretty liberal approach to your next party. Google is hellbent to emphasize the social sharing approach that Nexus Q will allow, with guests and hosts sharing the playlist queue, and Britt says it works out great in practice:
We didn't want to build in artificial limits that the owner of Nexus Q could enforce. You can't control how many songs someone can add, or what permissions one person has over another. It's a social, shared experience, and you and I have to actually interact if there's disagreement about the song list...

There are of lots of different ways people interact socially, and some have become deprecated over time," Britt says. "But I'm not sure if that's because they're less interesting or less valuable, or because new modes of communication and entertainment have made people forget about the value associated with them. Nexus Q is revival of something that used to be very commonplace, but it's something humans still react very positively to.
Since it works with Google Music, Play Store and YouTube, it kind of ties you to the Google ecosystem, but we think the enterprising folks from XDA-devs might have a field day with it, since it will be running Android ICS out of the box. Finally a great streamer that integrates with your Android device naturally, but it comes with a slightly unpleasant $299 price, available for preorder as we speak, coming in July. Any takers?
Recommended Stories