What's the future of LED displays? Apple already working on own micro-LED units, reports say
41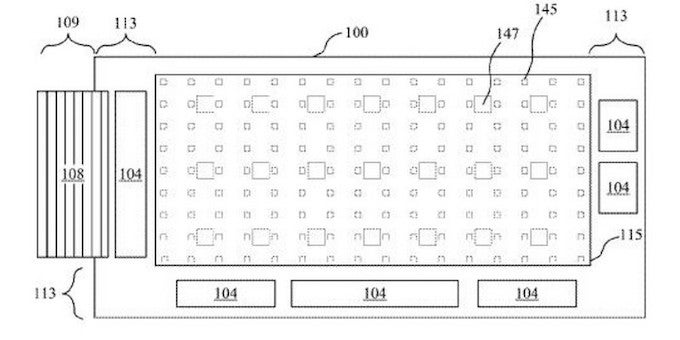 The micro-LED screen may make a debut in Apple Watch Series 3
Back in 2014, Apple acquired LuxVue to develop advanced micro-LED screens – a technology that is still not in mass production, but looks promising to be the 'next big thing' in display tech. A recent report suggests that Cupertino has been working actively on concepts that make use of mico-LED diodes, together with infrared sensors, and what not. The emerging screen tech holds massive potential, in terms of energy reduction, capacity for unseen before display features, as well as a much better all-round visual experience.
In recent months, various official and semi-confirmed sources have indicated that Apple is actively looking to close (or at least tighten) the manufacturing loop. The company is set to go in-house for the production of various device components, which will ultimately result in fewer chip sales for its current providers, such as Samsung and LG. Apple has long been known for its very successful fusion of hardware and software, exclusive for its products.
Apple's infrared micro-LED display – what we know so far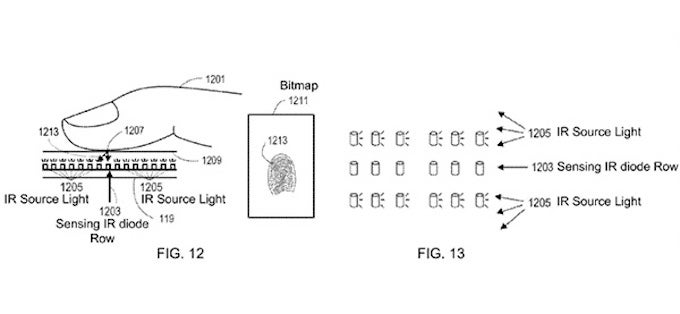 Apple's micro-LED screen patent shows in-built infrared diodes that support in-screen fingerprint reading
This February the US Patent and Trademark Office published 48 newly granted patents to Apple, amongst which was a patent for a display tech, inherited from LuxVue.
The essence of the protected concept is integration of interactive microchips, micro-LED diodes and IR capabilities – all under your thumb. Microscopic LED lights should offer much better contrast and brightness capabilities than the widespread OLED tech. A micro-LED display, compared to an OLED one, would reduce battery consumption and should offer much better response times. The patent actually indicates there might even be an in-built battery supply unit in the very screen.
What Apple's patents also seem to show is that the screens would feature tiny IR diodes. Such tech should finally allow for a smoothly working in-screen fingerprint sensor, as the diodes, as per patent notes, can "sense patterned IR light, reflected off grooves" on your finger. The opportunities from here are immense. Add to that Apple's supported multi-finger gestures and the spectrum of applications of the tech becomes even more exciting.
The patent's implementation notes indeed suggest an array of options for use of such screens, citing TV, laptops, automotive heads-up displays, digital cameras, handheld game consoles (yes, please!), ebook displays, and possibly other mobile Apple gadgets.
Micro-LED in the future
The micro-LED tech is still very undeveloped and it hasn't hit the mainstream just yet. However, looking at Apple's Patent Office dealings, it is safe to conclude that Cupertino may actually be quite close to showing off a micro-LED screen with in-built fingerprint sensors in the foreseeable future. We may actually see it in
Apple Watch Series 3
, but no official announcement or detail have been given on the matter. It's unlikely that we will see larger micro-LED gadgets anytime soon, as the tech still very much in development.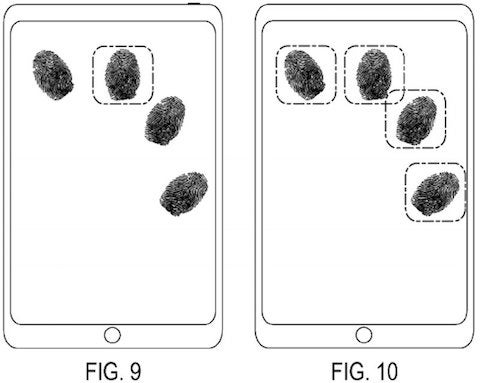 The implementation of infrared display tech was previously mentioned in an iPad patent in 2015
But what does that mean for competitors? See, the patent for the microscopic LED tech belongs to the Kansas State University, meaning that virtually any manufacturer with authorized use rights can produce gadgets with micro-LED diodes. However, it's the IR fingerprint feature that may put Apple in a very comfortable position on the market. We heard rumours of the
Galaxy S8
come
sporting a fingerprint sensor
under the screen, which turned out false, and no phone-maker so far has managed to implement such a move.
Apple's in-house game
Apple might become the first mass micro-LED display manufacturer
The recent news on Apple's display patents are just a reminder that the company bets heavily on custom parts, exclusive only for its own products. One of the keys to its success has been the seamless communication of hardware and software components, made exclusively for i-branded devices. Moving aspects of its production line in-house, Apple seems to emphasise on own innovative effort. Apple's large money pile allows it to spend heavily on
premier talent acquisitions
and new tech research, which gives it a great advantage ahead of smaller enterprises. Only in the span of one month, we learned that Apple might be looking to go in-house with the production of
power management circuits
,
GPU chips
, and is allegedly looking to buy Toshiba's RAM units business. This is what happens when you have
close to $250bn in the bank
.
What should you expect?
It's very early on to tell whether Apple's innovative influence would play out like we speculate it might, especially when it comes to leasing own component designs to competitors. In relation to a micro-LED screen device, we do not expect that the upcoming iPhone would sport it, given that pointers suggest to an OLED display. Apple has also contracted Samsung for the production of
OLED units until 2019
, meaning that the current LED tech will not be replaced overnight. It will be a huge surprise, albeit still a possibility, if we see an Apple micro-LED product amongst 2018/2019 releases. We do suspect that it in Watch Series 3, but this is also far from confirmed. In any case, the Californian tech giant seems in a very good position to invade the new display niche, while also likely prepping debut products in the AR and
VR department
. Exciting times ahead, guys!