Apple hires NASA specialist for its augmented reality team
6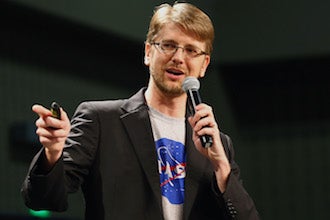 The rumour mill has been spinning out of control in recent months, with regards to Apple's wading into the arena of Augmented Reality. It is hardly a matter of doubt that Cupertino is cooking something huge for its AR game, with speculations of an
Apple AR glasses headset already in the making
. A recent report on Apple's talent acquisitions suggests that the company has attracted an AR/VR NASA specialist, who joined Apple's AR team, as a senior manager, earlier this year.
Jeff Norris has worked as an AR specialist for NASA since 1999. Despite his boyish looks, Jeff is a veteran in the new technology, and founded the Mission Operations Innovation Office of NASA's Jet Propulsion Lab. The project developed AR and VR instruments for spaceship control and remote space robots control. In his time at NASA, one of Jeff's projects included producing AR headsets for scientists on the ground, so they could experience live views of Mars. And this guy is now to work on tech that may become accessible to millions of iPhone users. Here is a video for his Project Sidekick that delivers AR/VR tech for astronauts on the International Space Station.
Norris joins the company's team, which is led by former Dolby Labs exec Mike Rockwell. People familiar with the matter have previously alleged that Rockwell is leading the effort on designing an AR glasses unit, and a whole bunch of related features. Tim Cook has also disclosed that he sees "huge" future in the tech, putting all doubts about Apple's intention to rest, while a social media post earlier this year alleged an Apple partnership with optics giant Carl Zeiss. However, before we have had an official announcement of a concept or a finished product, it's difficult to speculate when or what exactly to expect from Apple's AR debut. One thing seems clear, though – the company is ramping up its effort in the area, bringing (quite literally) astronomical talents into the game.