Apple is developing in-house power management chips, German analyst reports
20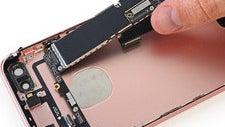 After signing a
$9bn deal with Samsung
for the manufacturing of OLED displays earlier this month, Apple is now speculated to be working on an in-house power management chip. Karsten Iltgen, analyst for German bank Bankhaus Lampe, cut his rating on Dialog Semiconductor this Tuesday, sending the chip manufacturer's shares down the slope. Mr Iltgen statated that "strong evidence" suggests Apple is looking to ditch Dialog's power management integrated circuits (PMIC), and is allegedly working on its own unit that could go live by 2019.
After Bankhaus Lampe reduced its Dialog rating to "sell" from "hold", the chipmaker saw its shares go down by as much as 36%. 70% of Dialog's sales in 2016 came from trade with the Californian tech giant, estimates show. Just to add some perspective to the financial impact this news has, Dialog accounts for about 20% of the global market, and is one of the leading PMIC producers in the world.
The company saw its shares soar by a double in 2016, as the common expectation was that trade with Apple shall continue and flourish further in 2017, when the
iPhone 8
is due to make a splash. According to a source close to the matter, Apple has been "poaching like crazy" for Dialog engineers, trying to put together a team of top professionals. Bankhaus Lampe cites sources who suggest that Apple is setting up power management design centers in Munich and California, already having around 80 of its own engineers working on the new battery chip. The report goes on to suggest Apple might need to hire more than 1,000 engineers to completely replace its business with Dialog.
Last week Imagination Technologies issued a statement announcing that Apple plans to go in-house with its graphic chips, too, causing the company's stock to go down by 70%.
It seems that next iPhone will truly be something special and more-Apple than any of its predecessors, given the dynamic shifts in manufacturing strategy we have seen. However, rumor on the street is that you may not get to touch one
until after September
, unlike expectations. In any case, Apple's anniversary iPhone is set to be a record-breaker in many ways, and recent financial news on Dialog do nothing but add fuel to the anticipation within us all.