What's keeping Apple fom announcing deal for Beats?
33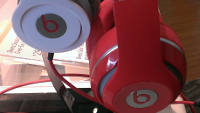 Two weeks and one day ago today, a rumor starting spreading with electrifying news.
Apple was going to pay $3.2 billion for Beats Audio
and the largest acquisition in Apple history was going to be announced the following week. Since then, we have gone two weeks without hearing a word from Apple about the deal. Obviously, something has happened that has made Apple decide to take another look at buying Beats, before committing to the deal. Where did things go wrong?
According to Billboard,one thing that spooked out Apple is
the video selfie made by Dr. Dre
in which he bragged about being the first hip-hop billionaire following the deal. However, the language used on the video is definitely NSFW. Apple is still a pretty conservative company and probably wasn't terribly pleased with the video.
Other reasons given by Billboard for why the deal hasn't been announced yet include the fact that for Apple, as strange as it seems, a $3.2 billion acquisition is a big deal. One person close to Apple's way of thinking says "
Remember this is the biggest deal they've ever done, and it's CEO Tim Cook's first really big deal
."
Another possibility is that the rumors started spreading too early, and that Apple was not as close to pulling the trigger on the deal as it seemed. At the same time, there still are questions on
where Jimmy Iovine and Dr. Dre would fit in at Apple
. According to Walter Isaacson, who wrote the definitive biography of Steve Jobs, he believed that the pair was set to oversee the content of the streaming music service formed by the merging of Beats Music and iTunes Radio.
Speaking of which, the initial thought was that the deal was being made so that Apple could use Beats Music to improve iTunes Radio. But Beats Music apparently is in need of help itself.
With less than 111,000 subscribers
, Beats Music had a $200 million valuation prior to the rumor of the deal with Apple, according to Billboard. Either Apple had not completed due diligence yet, or the deal really has to do with headphones.
Will this deal ever get done? According to Billboard, we should know some time next week. Where have we heard that before?
source:
Billboard