Wednesday could bring U.S. ban on HTC's Android devices
52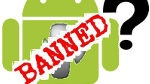 By Nielsen's figuring, Taiwan based manufacturer
HTC is now the third largest smartphone provider in the States
. The company has quickly risen from being a contract manufacturer to producing its own popular smartphones for both Android and the Windows Phone platform. But this Wednesday, a decision by the International Trade Commission could have some
huge repercussions
for both HTC and Android. The ITC is expected to rule on whether some HTC Android models violate patents belonging to Apple. A ruling in favor of the latter could lead to a ban on HTC smartphones in the States where 50% of the company's sales are booked.
Back in July, the
ITC stunned Android users and HTC fans in particular
when it ruled that HTC had infringed on a pair of Apple's patents.
HTC appealed the ruling
which takes us up to Wednesday's decision. Ironically, the other day the ITC ruled that
HTC's products do not infringe on a pair of patents held by former Apple subsidiary FlashPoint Technology
related to camera technology. Other defendants like RIM, Nokia and LG settled out of court while HTC
rolled the dice
and won.
When the ITC made its "initial determination" on July 15th, there was real fear in the air that all Android devices could end up being
banned in the States
. the ruling needed to be voted on by all 6 members of the commission and it is the result of that vote that we will find out about on Wednesday. As far as a possible ban is concerned, considering that HTC has won initial rulings against Apple for patent infringement, it would behoove the entire industry to work out a settlement as the only ones that benefit from all of this litigation are the attorneys and those nimble fingered court reporters.
source:
WSJ