ITC hands HTC a win against former Apple subsidiary's patent claim
3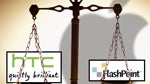 Chalk up a win for HTC in the ongoing patent wars: the International Trade Commission handed a win to HTC yesterday, ruling that HTC's products do not infringe on a patent held by FlashPoint Technology. FlashPoint had been an Apple subsidiary, had taken its patent case to the ITC in an attempt to quickly obtain an import ban against HTC's phones.
This case originally started with two patents related to camera technology. FlashPoint asserted them against RIM, Nokia, and LG, as well as HTC. The other three companies settled out of court, and FlashPoint dropped one so they could concentrate in asserting "patent 769" against HTC. Unless the implementation of the cameras made by RIM, Nokia, and LG are significantly different from HTC's, we imagine those companies may feel a little sheepish now that they agreed to pay royalties.
HTC is surely relieved, although this is
just
one
of
many
cases in this global sue-fest. This case highlights one difficulty with patents – they are often vague enough that it isn't clear whether or not infringement is taking place, and the only way to settle it is with a lawsuit. Since many companies opt to avoid the cost and uncertainty of a trial, patent holders can collect royalties for years (if not decades) even though infringement is only alleged – and in many cases the asserted patents would be found to be invalid when analyzed in a court of law.
FlashPoint may still elect to sue HTC in a U.S. federal court, although those cases tend to take longer and be costlier. Not to mention the defeat handed to them by the ITC may inspire confidence about going in for another round.
source:
US ITC
via
Android and Me
Recommended Stories