Nielsen Q3 numbers are out: Android and iOS (gasp!) dominate U.S. smartphone market
21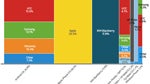 It's that time of the year again...no, not the holidays, it's time for Nielsen's Q3 estimates of current smartphone market share in the U.S! For those of you who confuse these results with sales numbers, remember that this is the installed user base in the U.S., not sales of new phones during the quarter. And now without further ado (drum roll please) the numbers are...
...looking pretty rosy for Google and Apple.
Is anyone surprised?
Here's the nitty-gritty: Nielsen finds that 44% of U.S. cell phone owners have a smartphone (in the last 3 months 56% of new phone sales have been smartphones, so it won't be long before half of all mobile phones are of the "smart" variety in the States). When looking at smartphones owners, 42.8% of them have Android handsets, while 28.3% are iPhones.
That means that
the "big two" mobile OSes control 71% of the market
. Nielsen points out that this dominance is even larger when you look at app downloads for the last month, of which 83% come from one of those two platforms. BlackBerry comes in third, with 17.8% market share. Relative to
Q2 numbers
, Android has gained 2% market share, Blackberry has shed 1.2%, and iOS is holding even. Of course all of those
iPhone 4S
sales
numbers
won't show up until the Q4 results are in.
Windows Phone has a
long
way to go
to become the "
third ecosystem
" that Microsoft and Nokia envision. 6.1% of smartphones have some flavor of Windows on them, which is down from Q2, when 7% of all smartphones were packing Windows. Of course these numbers includes Windows Mobile, so what we're seeing here is users leaving Windows Mobile for other platforms faster than WP7 is growing.
We know that some of you can get pretty worked up about these numbers, but please be kind to one another while sounding off in the comments section.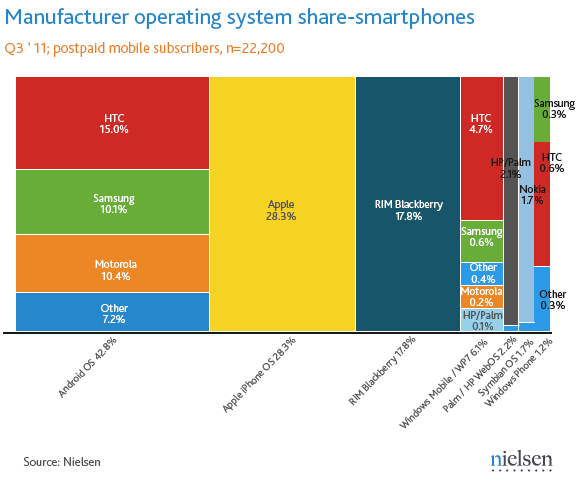 source:
Nielsen
via
Engadget