Verizon's Stratton says carrier will return to growth in postpaid phone subscribers during Q4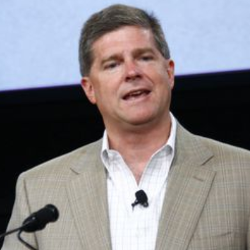 Last quarter, Verizon announced
that it lost 36,000 postpaid phone subscribers during the third quarter
. Why is that a big deal? Postpaid phone subscribers are the most important metric that a carrier reveals each quarter. Not only is it the bread and butter of the major carriers, this part of the business carries high margins and high average monthly bills (but we didn't have to remind you of
that
).
The third quarter was the first in Verizon's history to show a decline in postpaid phone subscribers. This captured the attention of T-Mobile CEO John Legere, who reminded everyone that
T-Mobile scored an 851,000 gain in postpaid phone subscribers during the same period
. Sprint and T-Mobile started unlimited data plans in the quarter, which hurt Verizon. Also impacting Big Red was the incredibly competitive promotions among carriers for the
Apple iPhone 7
and
Apple iPhone 7 Plus
.
Verizon EVP John Stratton says that he expects the carrier to return to growth in the current quarter, which ends in December. He says that consumers will continue to respond favorably to the new pricing it announced this past summer. While prices rose, the amount of data that comes with each plan also rose. It added a one-month rollover on unused data, and replaced overage charges by throttling the data speeds of those who go over their data cap to 128 Kbps. The executive said that the new plans brought the fastest migration to any new plans offered in Verizon history. "We had literally tens of millions of subscriber lines shift onto these plans in just the first couple of months," Stratton said.
"My expectation is that as you typically see seasonal increases from Q3 to Q4, I think we'll see the same here. I do expect positive phone net adds and continued strength of our overall performance."-John Stratton, EVP, Verizon
Will Verizon rebound from its first decline ever in postpaid phone subscribers? We will know on January 24th, 2017. That is the date when the carrier is expected to release its results for the fourth quarter.
source:
FierceWireless