Verizon's LTE fastest, T-Mobile takes second place, while AT&T provides in rural America
34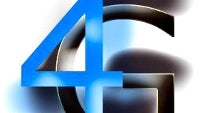 PC Mag just finished its
extensive annual test of the nation's carrier networks
, and the results are in. After driving with six people for 6000 miles, and using 16 smartphones in the process, more than 140 000 tests were made in 21 major cities, with
specialized software supplied by Sensorly
, to measure the network coverage and speeds of Verizon, AT&T, Sprint, T-Mobile, MetroPCS and Cricket.
Without going much into the details of it by geographical area, we'll just list what the tests found as an end result. When facts talk, marketing walks, so have a look at the charts below that say it all. Hit the source link, if you want a breakdown by region or city - the 21 test cities were Atlanta, Boston, New York, Philadelphia, Pittsburgh, Washington D.C., Charlotte, Nashville, Jacksonville, South Florida, Detroit, Chicago, St. Louis, Kansas City, Oklahoma City, Dallas, Phoenix, Las Vegas, San Diego, Los Angeles, and San Francisco.
The test devices were the LG Optimus C (the best Cricket had to offer), the Samsung Galaxy Indulge (MetroPCS), the HTC ThunderBolt (Verizon 4G), the HTC DROID Incredible (Verizon 3G), the Samsung Galaxy S 4G (T-Mobile), the HTC EVO 4G (Sprint), and the
Samsung Infuse 4G
with AT&T.
The tests found
Verizon's 4G LTE network to be the fastest
and most reliable in the major cities, with T-Mobile's recently upgraded 4G HSPA+ network taking second place. Verizon's 4G really delivered in Chicago, clocking 15.73Mbps on average.
AT&T provided better performance in more rural areas
, in terms of overall index, since despite all the 4G hype, its coverage is almost non-existent outside big cities for now, and this is going to change in the distant 2013. Sprint's situation is a bit different with its rented WiMAX network and CDMA standard, but it did well on the 4G test, coming third, while a traditional rural carrier like U.S. Cellular declined the tests of its network.
Last year we had
AT&T taking the lead
, while Verizon's LTE was still being built. Next year we will probably have different results with AT&T rolling out its LTE project, and Sprint possibly making a switch as well, while
T-Mobile gets folded into AT&T's network
. For 2011, however, the facts are listed in the two tables below. As for pricing and data caps, that's a whole different comparison, with its own heroes and villains.
source:
PCMag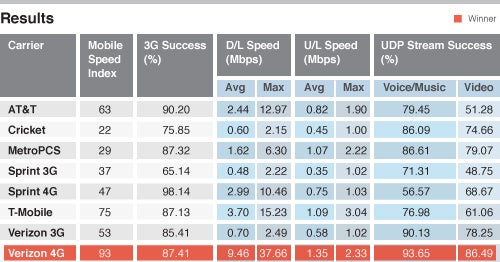 Nationwide carrier network test results

Rural areas carrier network test results