PCMag tours the country comparing wireless networks
8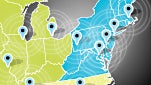 PCMag

is doing their annual field comparison of mobile networks
, but this year is going to be a little different. Rather than using laptops, as they have in past years,
PCMag
is using only smartphones. And what is their operating system of choice? Android 2.2, of course. But don't take that as a show of favoritism. It's just so that people don't try to make the competition about devices instead of networks.
The test devices will include the
LG Optimus C
(Cricket), the
Samsung Galaxy Indulge
(MetroPCS), the
HTC ThunderBolt
(Verizon), the
HTC DROID Incredible
(Verizon), the
Samsung Galaxy S 4G
(T-Mobile), the
HTC EVO 4G
(Sprint), and an unnamed HSPA+21 device with AT&T. They note that the only device with dissimilar specs is the LG Optimus C, and that's simply because it's the best Cricket has to offer.
The 21 cities in question are Boston, New York, Philadelphia, Pittsburgh, Washington D.C., Charlotte, Nashville, Jacksonville, South Florida, Detroit, Chicago, St. Louis, Kansas City, Oklahoma City, Dallas, Phoenix, Las Vegas, San Diego, Los Angeles, and San Francisco.
If you want to tell the team about notorious dead spots, or even get them to test the speeds in your neighborhood, they'll be tweeting from
@pcmphones
throughout their journey. Let the network war begin!
source:
PCMag
Recommended Stories