Android app finds areas with 4G coverage
1

Let's say you are a Sprint customer and own an HTC EVO 4G or Samsung Epic 4G, in a town where WiMax is not officially up and running.Wouldn't you love to have an app that tells you where in your city 4G is being tested? You can by installing Sensorly for free from the Android Market. The app measures speeds and locates areas where 4G speeds have been discovered. By outsourcing the job of finding WiMax coverage in an area to those with 4G enabled handsets (of which there are officially two as T-Mobile's HSPA+ offers "4G speeds" but not 4G service), Sensorly can quickly find pockets of testing throughout the country. The signals are not always permanent and not always perfect, but according to those who have used it, the app works. For example, while WiMax has not officially launched in Miami, a Sensorly user was able to find 4G locations in the city. He also found some coverage in New York City and San Francisco.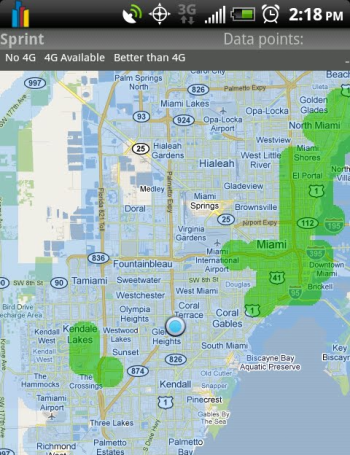 The areas in green offer 4G coverage
After installing the Sensorly app on your 4G phone, the instructions are fairly simple. Turn your handset on to 4G and open up the Sensorly "Map Viewer". You then select 'Yes' Active only. Tap on 4G and then again on Sprint-USA. You should then see a map similar to the weather radar on television. Instead of indicating rain, the areas that are covered in green are where you will find a WiMax signal for your HTC EVO 4G or Samsung Epic 4G.
HTC EVO 4G Specifications
|
Review
Samsung Epic 4G Specifications
|
Review
source:
androinica