Verizon gives $50 gift cards to those who had network problems trying to win DROID Seeker
8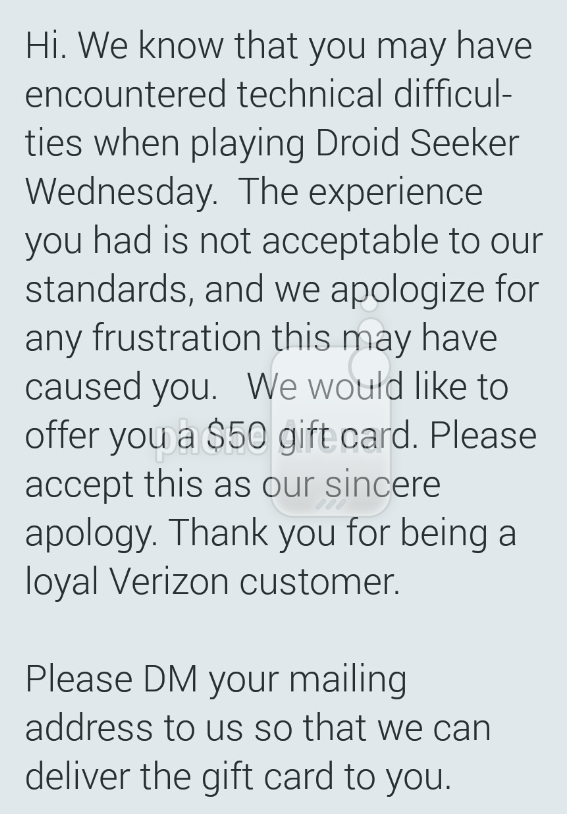 Verizon offers $50 gift card to those who had problems playing DROID Seeker
Last Wednesday, Verizon created a virtual scavenger hunt in a game it called DROID Seeker.
The carrier gave away Motorola DROID Turbo 2 units to the first 200
who could find the
Motorola DROID Turbo 2
image hidden in a virtual city "built of concrete and glass." But apparently, not everyone had a easy time trying to win the phone.
One of our loyal PhoneArena readers has sent us a screenshot of a tweet he received from Verizon. The nation's largest carrier is offering him a $50 gift card because of technical difficulties he had while playing. According to our reader, he was number 40 with 198 DROID Turbo 2 units still available. He ended up sitting in front of his screen for hours, never getting the opportunity to play the game. While a $50 gift card isn't something to sneeze at, it still isn't the same thing as winning a hot new phone.
Anyone else out there have a similar experience while trying to play DROID Seeker? Has Verizon reached out to you? Let us know by leaving your comments in the box below.
Thanks for the tip!