Verizon gives away 200 Motorola Droid Turbo 2 smartphones
10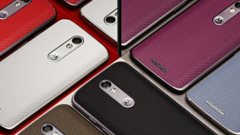 If you like the brand new
Droid Turbo 2
(
announced earlier today
by Verizon and Motorola), but you don't think you'll be able to buy it anytime soon, you have the chance to win one. More exactly, tomorrow, October 28, Verizon will kick off a virtual scavenger hunt dubbed Droid Seeker, allowing 200 people to win a Droid Turbo 2 each.
The Droid Seeker challenge will be available only to Verizon customers. To participate, you'll have to visit the Droid Seeker website (see the first source link at the end of this article), sing in with your Twitter account, and enter your phone number. Then, you'll "be introduced to a city at night, built of concrete and glass", and you have 30 seconds to find one of the 200 hidden Droid Turbo 2 handset images. If you find one, Verizon will send you a real Turbo 2.
As already announced, the Droid Turbo 2 will be available to buy on October 29 (this Thursday), starting at $26 per month, or $624 off contract. The smartphone is presented as the world's first to have
a shatterproof display
(5.4-inch Quad HD), while also offering high-end features like an octa-core Snapdragon 810 processor, a 21 MP rear camera, 3 GB of RAM, and a 3760 mAh fast-charging battery.
What do you think about the Droid Turbo 2 thus far?
sources:
Droid Seeker
(website not online yet),
Verizon