Verizon drops the price of the Motorola Moto 360 2nd generation and Sport by $50
10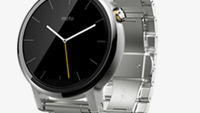 Think about all of the naked wrists that were once covered by a watch. Since the smartphone became as essential to living as oxygen, many decided that knowing the time, which was all that the watch was once good for, could be discovered by glancing at your handset. But the rules changed again when smartwatches were unveiled. With a paired timepiece, you don't even need to pull out your phone to read emails and texts on the go.
And now Verizon is making it cheaper to cover your wrist with the Motorola Moto 360 2nd generation model, or the Motorola Moto 360 Sport. From now until the end of the month, both smartwatch models are $50 off from the nation's largest carrier. The 46mm Moto 360 2nd generation watch is now $349.99. The 42mm watch for ladies is priced at $299.99.
As we said, the $50 savings also applies to the Motorola Moto 360 Sport, which will cost you $249.99 with the sale. This model offer GPS tracking to assist in monitoring your workouts including the distance you've covered and the pace at which it was accomplished.
All three models are powered by Android Wear and will track your "caloric intake," heart rate and the number of steps you take. In addition, they all feature a large 300mAh battery that will provide you with as much as a day and a half of use between charges. With an IP67 rating, the timepieces can be worn even when you are doing the dishes. And the trio will pair with any Android phone running Android 4.3 or later, or those with an
Apple iPhone 5
or later running iOS 8.2 and up.
The Motorola Moto 360 2nd generation and Sport models are Verizon's accessory of the month, which is why they are on sale. If you're tired of seeing your naked wrist, why not click on the sourcelink and take advantage of the discount.
source:
Verizon