Unicode reveals new proposals for Emoji 4.0
5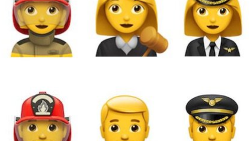 Unicode announced a draft today for a proposed Emoji 4.0 update. The draft adds gendered emojis, new professional emojis, new flags, emoji upgrades to non-emoji characters, and additional skin tone support. Unicode proposes adding male or female versions of certain existing emoji that currently have just one version based on gender. These characters include an information desk man, guardswoman, female runner, female police officer, and men with bunny ears.
After both Apple and Google suggested that new professions be considered for Emoji 4.0, Unicode announced that 16 new professions are being proposed for the 4.0 update. These include:
Health Worker
Judge
Pilot
Farmer
Cook
Student
Singer
Artist
Teacher
Factory Worker
Technologist
Office Worker
Mechanic
Scientist
Astronaut
Firefighter
There are actually 32 professional emoji proposed since each one will have a male and female version.
Proposed for the update is a Rainbow Flag and the United Nations Flag. And three characters are being considered for a promotion to full-fledged emoji. That would be the female sign (♀), the male sign (♂) and the Staff of Aesculapius (⚕).
Lastly, ten emoji are being considered for skin tone modification. As Unicode points out, emoji showing multiple characters have to have the same skin tone since the characters all share a single code point. The emoji being proposed for skin tone modification are:
Woman With Bunny Ears
Man and Woman Holding Hands
Two Women Holding Hands
Two Men Holding Hands
Wrestlers
Snowboarder
Golfer
Sleeping Accommodation
Man in Business Suit Levitating
Family

The review period for Emoji 4.0 ends on October 24th. Emoji 4.0 will be released this coming November.
source: Emojipedia