Undaunted, the ParaShoot 2.1 micro HD camera reaches its new goal, pick yours up
3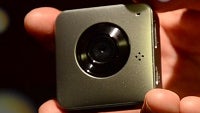 It is a tale of the little camera that could. It is also the tale of the little camera that almost did not. We have been passing along the crowd sourcing efforts to put a nifty little camera into production. The camera uses your smartphone as a viewfinder, has microSD support and a whole bunch of covers and accessories at the ready to personalize the experience.
The
first iteration of the ParaShoot was a good idea
, but did not reach its goal. Matt and Colin of GSS LLC, worked on a refreshed design with the product and
re-launched the campaign
only to have it
shot down within days of it having successfully reached
and surpassed its goal. We reached out to Kickstarter for comment, but the site has very convenient terms that state it can do what it wants, when it wants, without explanation to anyone at anytime.
We have seen some of the drama from people that apparently backed the campaign only so they could torpedo the thing in the process. Matt and Colin did not give up though, and gave it another push, this time on Indiegogo. The back-end development continues so this launch was dubbed ParaShoot 2.1. Just a couple days ago, it surpassed its $117,000 goal, and with 5 days left in the campaign, the talk is about setting up some stretch goals.
So, if you have been interested in this product, but put off by the drama, it looks like the soap opera has ended. The good news is that the light at the end of the tunnel does not appear to be a train, and if you throw your support in now, you should have your ParaShoot by Christmas. Click on the source link for more information.
source:
ParaShoot