Video document your life, your workspace, vacation, anything with ParaShoot
1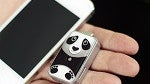 For those that are not keen on the idea of wearing Glass everywhere on their head, but still want to be able to document their "goings-ons" in a relatively hands-free fashion, there is ParaShoot.
ParaShoot is a wearable and wireless HD video camera that can upload video content directly to the cloud or share it instantly with friends. ParaShoot is simply worn around your neck, so you can walk around and let it do all the work.
ParaShoot will work with your smartphone, enabling your device to serve as a viewfinder and remote control. With that connection, ParaShoot can also broadcast footage to devices. It also supports microSD memory cards and can be programmed to do interval-video recording if you choose. Video recording is 720p encoded in H.264.
The ParaShoot uses two batteries simultaneously. There is a 400mAh internal unit and a 600mAh battery in the neck strap. Early backers get two of the 600mAh units so you can record continuously, or use the ParaShoot without needing the neck strap. The extra battery in the strap also keeps the ParaShoot's size in check, and when set to interval shooting mode, one battery set should last you better than a day.
The ParaShoot also has several custom cover plates to personalize your fashion mood. For those that do not have a cloud storage service handy for their video content, ParaShoot has its own available cloud available of which, early backers get the first 30 days free. Cloud costs have not been announced yet, but they will be in line with current industry rates.
As to why ParaShoot? Well, other wearable "life-blogging" devices have various limits, some with no audio, or no video, whereas ParaShoot integrates with your cell phone to let you use it as a view-finder so you can see what you are recording. Since it is draped around your neck, you do not have to worry about it falling off your face either.
As far as applications for ParaShoot, it could prove ideal for field work where a GoPro type camera does not make sense, and since you can personalize it, it can be fun to wear at a big party or to document a trip you take.
The Kickstarter campaign is underway, and early backers can secure their ParaShoot starting at $149. The designers have outlined all the anticipated costs and project timelines, so if they reach their goal, you should have your ParaShoot by September. We have images and video below, and the source link has all the rest if you are interested in supporting the effort.
source:
ParaShoot
(Kickstarter)