ParaShoot 2.0 is the wearable HD camera that records whatever, wherever
10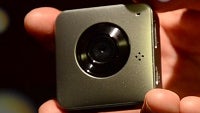 Having an always-on video camera can come in quite handy sometimes. There are all sorts of applications, in your car, on the job or even in class. That is where the ParaShoot 2.0 comes in. This revised version brings a more versatile form factor and a wider 100 degree view.
Now instead of having only a necklace to mount your ParaShoot, a series of mounts will also be available for your windshield, belt, or in and around your home. There will be a bunch of customizable covers for the device as well.
The ParaShoot app allows you to use your
iOS, Android or Windows Phone
device as a viewfinder and controller for the camera. Videos are recorded in 720p and H.264 encoding and can also be stored in the cloud. You can set up a continuous loop recording or an automatic recording mode. ParaShoot also incorporates built-in image stabilization.
ParaShoot can be real handy while on a hike, or while on the job. A 16GB microSD card is included for backers and early backers will get a complete set of the different mounts and clips. The best part is that ParaShoot 2.0 is definitely going to happen since it reached its funding goal in the first couple of days. The campaign is now looking to include some stretch goals, like an extended battery, bicycle mount, or maybe a dog harness or time lapse photos with audio.
The expected retail price of the ParaShoot will be $269, but early backers can get the ParaShoot 2.0 for $149, plus a 16GB microSD and all the clips and mounts for the device. Matt and Colin will ship outside the US for an extra $15. If you get in as one of the first backers, you should have your ParaShoot by Christmas. Other tiers ship a little later. Click on the source link to join the campaign.
source:
ParaShoot
(Kickstarter)