ParaShoot 2.1 launched on Indiegogo after campaign is suspended by Kickstarter without comment
8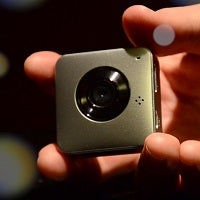 When it comes to using online services, one factor seems almost ubiquitous, use of those services is solely at the discretion of the host's terms and conditions, often without any notice to anyone at any time.
Such was the case with the
nifty product launched last month, ParaShoot 2.0
, a campaign that had met and exceeded its goal in a successful follow-up to a "
version 1.0
" attempt earlier this year (which did not reach its goal).
If you were a backer of the ParaShoot 2.0 campaign, you received an email notice on Friday stating that the campaign had been irreversibly suspended and there would be no comment explaining why to the backers or the creators of the campaign "as a policy." We will delve into that issue later, as on the face of it, there does not seem to be any apparent conflict with Kickstarter's guidelines. We have reached out to Kickstarter in the hopes we can provide perspective on the suspension.
In the meantime, Matt and Colin are undaunted and have re-launched their campaign, dubbed
"ParaShoot 2.1"
on Indiegogo. The funding goal is identical to the funds that were raised to-date on Kickstarter, $117,358. They have also added some features to the product to sweeten the deal while keeping the perk prices identical.
The larger funding goal will ensure that the newest features are part of the final package. The versatility of ParaShoot 2.1 is pretty neat. Want a dash cam for your car? Early backers at all perk levels get a vehicle mount (along with all the clips and mounts). Desire a custom skin for your ParaShoot? Early backers will get their choice of a custom skin as well. We also suspect that other skins will be available after the product launches.
The Indiegogo campaign also adds a distributor package, netting 10 devices for $1,350, which provides for a good rate of return if you sell them at the suggested retail price of $269 each. Early individual backers can get their ParaShoot 2.1 starting at $149. For that, you get all the mounts, a custom skin and the color of your choice (arctic white, silver or black).
The ParaShoot app will enable your smartphone to work as a view finder and camera manager. The app will be available for iOS, Android and Windows Phone. ParaShoot 2.1 has a 100 degree field of view, has Wi-Fi 802.11b/g/n compatibility, will accept microSD cards up to 64GB, and records in 720p HD video at 30 fps in H.264 format. You can record video on a loop or utilize time-lapse photography. You can also wirelessly share and store your videos via the smartphone app.
Check out the video and press release below. Delivery will be made in time for the holidays and if you want to get on board, click on the source link to get your ParaShoot 2.1.
source:
ParaShoot
(Indiegogo)
The ParaShoot 2.1 - The Only Customizable Multi-Use and Wearable Wireless HD Camera with Time Lapse Photography

The ParaShoot 2.1 combines a multi-use HD camera with wireless connectivity, ability to customize its look and automated recording mode. Featuring a small camera that can be worn in a premium build quality, the ParaShoot is the first in a new generation of smart cameras.

Wireless connectivity: The ParaShoot can operate remotely with its companion smartphone app (iOS, Android, Windows) with up to a 200ft outdoor range and a 60ft indoor range. Remotely record, view, store and share instantly recorded footage on social networks.

Multi-Use: Use the ParaShoot in practically all situations with its various mounts and clips. With the built-in groove at the base of the camera, one can easily attach the ParaShoot to clothes, metallic surfaces, windows, walls, moving objects and more. A bike mount and waterproof case will also be made available for the outdoors and harsher conditions.

Wearable Technology: The ParaShoot can be worn as a fashionable pendant with any style. With an assortment of custom skins, the ParaShoot is the first true fashionable HD smart camera.

Standalone and companion: The ParaShoot can be used standalone in either photo or video mode with built-in buttons for recording and mode selection. Connect the ParaShoot to its companion app for additional wireless features, including transferring recordings without the need to plug the camera into a computer with a USB cable. The ParaShoot can also be connected to a WiFi router to broadcast in real time to its viewer.

Superior graphics processor: The ParaShoot is powered by the finest in graphics processing solutions on par with professional standards to ensure fast data transfer speeds and excellent quality recordings.

The ParaShoot 2.1 will include the following new features:

New flat frontplate design: The ParaShoot design will be upgraded to be flat in the front and sleek in design, maintaining all performance requirements.

New time lapse photography feature: The ParaShoot 2.1 will include a built-in optional time lapse photography feature.

New skin designs: The ParaShoot 2.1 will feature both texture based and custom art skins designs.

"Over the past six years we have built a world class outfit to introduce innovative consumer applications. We are able to scale from concept to finished product rapidly, covering a complex range of design, engineering, development and manufacturing work. With the ParaShoot, we are setting a new foundation in an advanced lifestyle tech product with new standards in wearable, wireless and multi-use video technology. IndieGoGo's global reach and creator friendly platform makes it possible to raise the necessary production capital needed from passionate backers who share the vision. We are able to hone and perfect the product and its key feature set in real time given the outstanding feedback of the community," CEO Matt Sandy says "We are grateful to our supporters and look forward to delivering the ParaShoot 2.1 to everyone's hands as the best product under the sun."

The ParaShoot will ship with a complimentary 16G micro SD card for supporters. Approximately 2.5Gb are used per hour of video recorded footage, allowing for over six hours of video footage on one 16G card. In loop mode, the previous six plus hours are stored continuously on the micro SD card.

The ParaShoot will be shipped in December to supporters who pledge $149 or more to support ParaShoot via the new IndieGoGo crowd funding campaign: http://igg.me/at/parashoot/x/4707815

Key features:

Incredible small size: 45x45x15mm

Built in microphone

Built in image stabilization

100 degree wide angle field of view

700mAh Li-ion battery

Lightweight 1.3 ounces

Wireless 802.11 b/g/n 2.4Ghz

720HD video, 30fps, H.264 encoding

Memory: 8/16/32/64Gb micro SD card

Wirelessly save and share recordings with app

Companion app for iOs, Android, WP8

Multiple clips/mounts for various use

Changeable styles with custom skins

Optional embedded in video time stamp function showing date/time

Time lapse photography feature