Seeking to overturn $4.8 billion EU fine, Google gains support from unlikely allies
9
In July of 2018,
the European Union (EU) fined Google a record 4.34 billion Euros
(currently valued at $4.8 billion USD) for requiring Android manufacturers to pre-install certain Google apps on their devices. For example, Google demanded manufacturers who wanted to license the Google Play Services version of Android include Google Search and Chrome on their phones. Google also paid some of these companies to load just one search engine on their handsets, Google Search (of course). And Google did not approve of manufacturers selling phones running on unapproved versions of Android.
In the EU, this behavior was considered to be anti-competitive (and a violation of antitrust laws) since it forced Android users in Europe to specifically search for third-party browsers and search apps. Earlier this year, to comply with the EU's ruling, Google provided European Android users
with a couple of pages that listed third party mobile browsers and search engines
that users on the continent could choose from. Besides Google Search, other options included Qwant, Duck Duck Go, Ecosia Browser and Seznam.cz. Third-party browsers listed included Firefox, Microsoft Edge, Opera Browser and Puffin Web Browser.
Google is appealing the fine in Europe's second-highest court and has surprisingly found a couple of allies among Android phone manufacturers.
According to Reuters
, Germany's Gigaset and Finland's HMD Global Oy are being allowed to testify in favor of Google. Also appearing in court to support Google is Opera, a company that produces mobile browsers. Meanwhile, the EU has its own list of companies willing to speak out in court against Google. Not surprisingly, among this group, you'll find French search engine Qwant, Czech search engine Seznam and lobbying group FairSearch. It was the latter's complaint against Google that kicked off the EU's investigation of the company.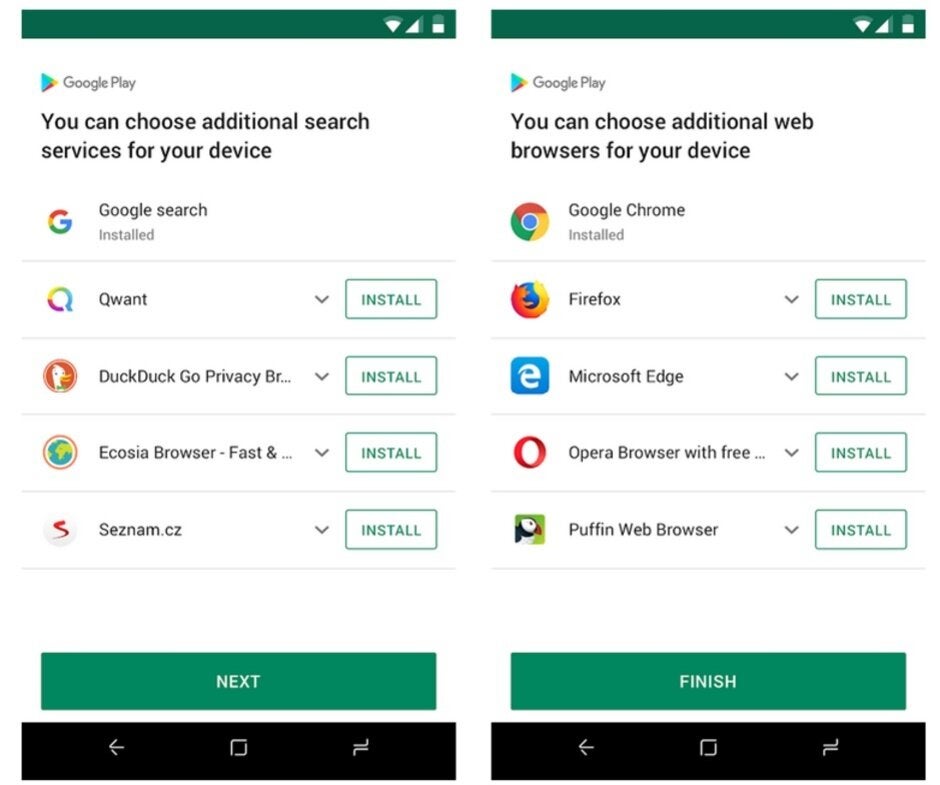 In Europe, Google promoted third-party browsers and search engines in reaction to its huge fine
In the U.S., Google is one of four tech firms (along with Apple, Facebook, and Amazon)
being probed by the Justice Department (DOJ) for antitrust violations
. Last month, the House of Representatives demanded documents from Google and Apple for its own antitrust investigation. Apple is accused of being anti-competitive because iOS users are not allowed to sideload apps. With Apple taking a 30% cut of in-app revenue and subscriptions (which drops to 15% after the first year), a lawsuit seeking class-action status claims that iOS device owners have to pay more for apps and games because of this so-called "Apple Tax." Earlier this year, the U.S. Supreme Court ruled 5-4 that Apple is selling apps to iPhone and iPad users and is not an intermediary as the company claims. As a result, the highest court in the U.S. ruled that the suit could proceed and rejected Apple's attempt to have it thrown out of court.
Google appears to be safe from any type of similar lawsuit related to the Google Play Store. While the company does take a 30% slice of the revenue generated in-app, Android users do have the ability to sideload apps.
With both the DOJ and Congress investigating "Big Tech," there also is a fear that legislation could eventually be passed that would force huge tech firms to break up, much like the Bell System had to in the early 1980s. For example, a case could be made by the DOJ that Google is violating antitrust laws and needs to spinoff Android. That would allow manufacturers to fairly decide whether to pre-install Google's core apps or those from third-party developers. While Android is an open-source platform, as we've already mentioned, a license from Google is required for manufacturers to install the Google Play Services version of the operating system which includes the Google Play Store and core apps like Search, Gmail, Maps and YouTube.