Trump tweets out an order to U.S. companies that could devastate Apple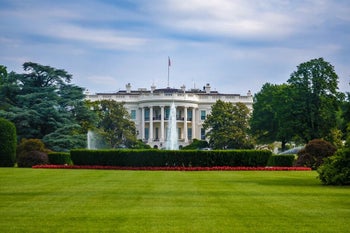 Shares of Apple plunged nearly $10 or 4.62% today after U.S. President Donald Trump disseminated a tweet "ordering" U.S. companies to stop doing business in China. While the president is not a dictator and cannot just tweet such an order, the fear is that he will do something within the powers of the president and force U.S. companies to pull out of the country. Apple designs its products in the U.S. but assembles them mostly in China.

CNBC is now reporting
that the president has raised tariffs on $250 billion worth of Chinese imports to 30% from 25% starting on October 1st. And the tariffs on another $300 billion of goods that takes effect on September 1st will now be 15% instead of the originally announced 10%. The Apple
AirPods
and the
Apple Watch
are included in the latter group. Originally, the Apple iPhone and other smartphones from China were also part of this tier of products, but Trump is holding off taxing these products until December 15th so that the extra tax doesn't affect holiday sales of smartphones and some other electronic devices.
While Trump has been worrying about an indicator called the inverted yield curve that has a great record at forecasting recessions (I'd be happy to explain this in the comments section if anyone wants to know), what he doesn't realize is that hiking the tariffs are going to cause more damage to the U.S. economy. The tariffs are nothing more than an import tax that U.S. companies pay when importing the targeted goods from China. These firms can either eat the additional costs themselves and hurt their profit margins, or pass all or part of the tax along to consumers in the form of higher prices. Apple has been eating the tax imposed on imports of certain iPhone and iPad cases in order to keep the price to U.S. consumers unchanged. But it isn't clear what the company will do with the extremely popular Apple Watch and AirPods. New versions of both could be unveiled on September 10th.
U.S. companies and consumers are the ones hurt the most by the tariffs imposed by Trump

Back in June, reports started surfacing that
Apple was investigating moving production of its devices out of China
. While the company had produced older iPhone models in India to avoid an import tax in that country, and to meet the demand for lower-priced models in that market,
it has started production of the 2018 iPhones in India
. However, the facilities in the country are not close to being enough to meet Apple's needs. And any move out of China could take years to complete. A new supply chain would need to be found, and new workers would have to be properly trained. Apple could end up moving as much as 30% of its production to a country like Vietnam.
What set off this trade war is the large U.S. trade deficit with China. Most economists will tell you that this merely means that American consumers are wealthier than their Chinese counterparts and can afford to buy more goods from China than they buy from the U.S. However, President Trump has considered the deficit to be a scoreboard indicating that the U.S. was losing some sort of trade game with China. In May, he lied by posting a tweet stating that because of the tariffs, millions of dollars were flowing into the U.S. Treasury from China. Any money flowing into the Treasury from the tariffs is from U.S. companies like Apple.
A number of times, Trump has told Apple that to avoid tariffs, the company should move production of its devices to the U.S. And earlier this week
the president met with Apple CEO Tim Cook
. During the meeting, Cook told Trump that the tariffs are giving Apple's top rival in the smartphone industry an unfair pricing advantage. That's because Samsung's phones imported to the U.S. from South Korea currently do not face any import tax in the states. And this is the problem with the U.S.-China trade war; the tariffs imposed by Trump are hurting U.S. companies like Apple more than they are affecting the Chinese. This is similar in some respects to the Huawei export ban. Sure, it will eventually be a nuisance to Huawei, but U.S. tech firms like Qualcomm, Intel and Micron will miss out on the $11 billion in supplies that Huawei bought from the U.S. in 2018.