Cook meets Trump, explains how iPhone tariffs help 'very good competitor' Samsung
24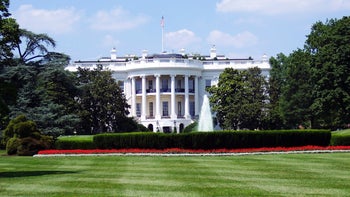 For a
second time
, President Trump sat down with Apple's CEO Tim Cook, and talked tariffs over dinner on Friday. Unlike a lot of other Silicon Valley entities, Mr Cook has taken the
path of least confrontation
with the administration over its budding philosophical conflict with China over tariffs, intellectual property rights and the like, as it stands to lose a lot if things go awry.
That is why, on the cusp of escalation, Tim Cook organized a sit-down with Trump to give him another valid reason for backing down on tariffs apart from the fact that t
hey will ruin Christmas
. We kid, but that's one of the reasons that 10% surcharge on $300 billion of Chinese imports was postponed from September 1st to mid-December now.
Apple's CEO was adamant that tariffs on iPhones will end up helping Samsung and the President seems to have realized that Samsung is a South Korean company and shouldn't be getting ahead of Apple due to an administration whose slogan is "Make America great again."
I had a very good meeting with Tim Cook. I have a lot of respect for Tim Cook, and Tim was talking to me about tariffs. And one of the things, and he made a good case, is that Samsung is their number-one competitor, and Samsung is not paying tariffs because they're based in South Korea.

And it's tough for Apple to pay tariffs if they're competing with a very good company that's not. I said, 'How good a competitor?' He said they are a very good competitor. So Samsung is not paying tariffs because they're based in a different location, mostly South Korea but they're based in South Korea. And I thought he made a very compelling argument, so I'm thinking about it.
Having dinner tonight with Tim Cook of Apple. They will be spending vast sums of money in the U.S. Great!

— Donald J. Trump (@realDonaldTrump) 16 август 2019 г.
Still, the 10% tariffs on accessories like the AirPods and the Apple Watch will start on September 1st as announced, but big ticket items like Macs or iPhones will be excluded for now, so any big announcements on breakthroughs in the trade negotiations with China are seemingly postponed for after the holidays.