Apple CEO Tim Cook earns praise for the company's success
9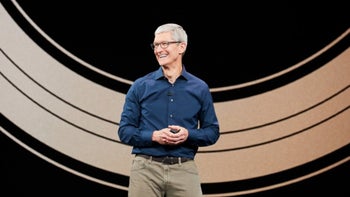 When Tim Cook permanently took over the CEO position at Apple, replacing Steve Jobs for a second and last time in 2011 (he had temporarily replaced Jobs when the latter took a leave of absence in 2009), Apple and its investors weren't sure about how Cook would fare replacing an iconic leader like Jobs. He had done an outstanding job putting together the tech giant's supply chain, but running the firm's day-to-day operations was sure to be a different story. But we'd say that Tim Cook has done a terrific job as Apple's CEO, an opinion that is reflected in Apple's stock market price which recently hit a new all-time high.
Cook's decision back in late 2016 to focus on the Services business was a brilliant move that came not too long after iPhone shipments peaked in 2015. By focusing on the Services unit, Cook was turning the company's attention from annual iPhone sales to the large number of active units in consumers' hands. This has paid off handsomely for Apple as the division is Apple's second largest revenue generator and its most profitable unit. Apple, which collected $25 billion in Services revenue in fiscal 2016, hopes to hit $50 billion in fiscal 2020 which started at the beginning of this month. Services like Apple TV+, Apple News+, Apple Music and Apple Arcade take in revenue that repeats each month. Also considered to be under the Services umbrella is the App Store, Apple Pay, and AppleCare.
Reuters reports today
that investors are praising the way Cook has handled the U.S.-China trade war which has really impacted Apple in a number of negative ways. In China, the largest smartphone market in the world, consumers have been shying away from purchasing the iPhone and a wave of patriotism has led the Chinese to purchase handsets from Huawei. Because the phone manufacturer is portrayed as a victim of U.S. aggression and bullying, shipments of
Huawei's handsets soared an unheard of 66% in the country during the third quarter
. Apple still considers China to be an important market, so this backlash, which has absolutely nothing to do with Apple, is a problem that the company will have to overcome. During the third quarter, iPhone shipments declined 28% year-over-year in China leaving Apple with a 5.2% share of the market from July through September. That is down from the 7% slice of the pie that Apple had during the same quarter last year.
Cook has walked a tightrope with the relationship he has with President Trump

In addition, Cook has had to negotiate the tariffs that President Donald Trump has placed on imports from China. Because Apple designs its products in California and has them assembled in China, they are subject to the import tax. Apple can decide to pay all, some or none of the taxes and have the consumer pay the balance. So far, Apple has eaten the import tax on the Apple Watch, AirPods and certain cases for the iPhone and iPad. And in the middle of December, a 10% tariff will be imposed on the iPhone. Apple will surely pay this additional cost as well.
Apple's CEO has walked a tightrope maintaining a friendly relationship with Trump despite the president's constant calling for Apple to built its products in the states. Trump also
called for a boycott of Apple during his 2016 campaign
after Apple refused to follow a court order to open a terrorist's iPhone (somewhat ironic considering what is going on in the U.S. these days) and announced that Cook told him in a phone call in 2017 that
Apple was going to build "three big plants, beautiful plants"
in the U.S. The company says that no such phone call ever took place. And even if the president doesn't remember Mr. Cook's name, the executive has taken the time to explain to the president how
the tariffs help Apple's rival Samsung
in the U.S. smartphone market.
"Who would have thought he would have been able to thread that needle and deal with the president? It's a show of an incredible amount of nuance and emotional intelligence to do what's best for the company."-Hal Eddins, chief economist, Capital Investment Co.
Under Cook's watch, we have seen Apple become the first publicly traded American company to be valued at $1 trillion while the company has launched the best selling watch in the world and the most popular line of in-ear wearables. While the HomePod smart speaker has not been a hit, Apple and Cook could have a chance to rebound next March when the AR based Apple Glasses are expected to be introduced.