Huawei's third quarter in China was absolutely mind-blowing
21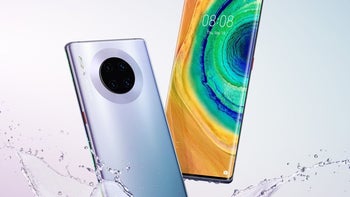 Because it is banned from accessing its U.S. supply chain, Huawei might not close out this year as the number one smartphone manufacturer in the world as it had hoped. It also had to lower the number of handsets it hoped to ship this year by 10%; it is now
targeting a total of 270 million global phone deliveries for 2019
, down from the 300 million it planned for at the beginning of the year. Don't get us wrong; by all measures Huawei has had a spectacular year in light of the problems it has faced and continues to face.
The big issue is the inability of Huawei to license the Google Play services version of Android. This means that Huawei's new phones, including the Mate 30 line, cannot install Google's core Android apps including Search, Maps, Gmail, the Play Store, YouTube and others. Now this is not a big deal inside China where Google is a four-letter word, but without Google apps and Android updates, the manufacturer's international sales are feeling the effect of the ban. But when it comes to domestic shipments, Huawei is on an absolutely torrid pace.
With the incredible support of Chinese consumers, who see Huawei as the victim of U.S. bullying, the company increased its shipments of phones in China during the third quarter by a mind blowing 66% year-over-year
according to Canalys
. And its market share in the country soared from 24.9% during the same quarter last year to 42.4% this year. That means that four out of every 10 handsets shipped in China are Huawei models. The number of units it delivered in the quarter soared from 25 million last year to 41.5 million this year giving it six consecutive quarters of double-digit growth in the face of a tepid smartphone market in the country. While China remains the largest smartphone market in the world, during the quarter handset shipments declined by 3% on an annual basis from 100.6 million to 97.8 million. That makes Huawei's feat even more impressive.
Shipments of Apple iPhone units in China declined 28% during the quarter

There is a huge gap between Huawei and the number two phone manufacturer in China, Vivo. The latter shipped 17.5 million units in the quarter, down 23% from the 22.7 million it delivered during last year's third quarter. As a result, its market share declined from 22.6% in 2018's Q3 to 17.9% in 2019. In fact, all of the Chinese manufacturers on the list suffered through a brutal three month period and all had annual declines of 20% (Oppo) to as much as 33% (Xiaomi).
Apple also saw its shipments in China decline sharply during the three-month period. After a 28% year-over-year decline, 5.1 million iPhones were shipped in China from July through September; in 2018's third quarter, Apple delivered 7.1 million handsets in the country. In a market that Apple still considers to be very important, its market share was 5.2%, down from 7% a year earlier. The new 2019 iPhone models made up 40% of Apple's iPhone shipments in China during the three-month period.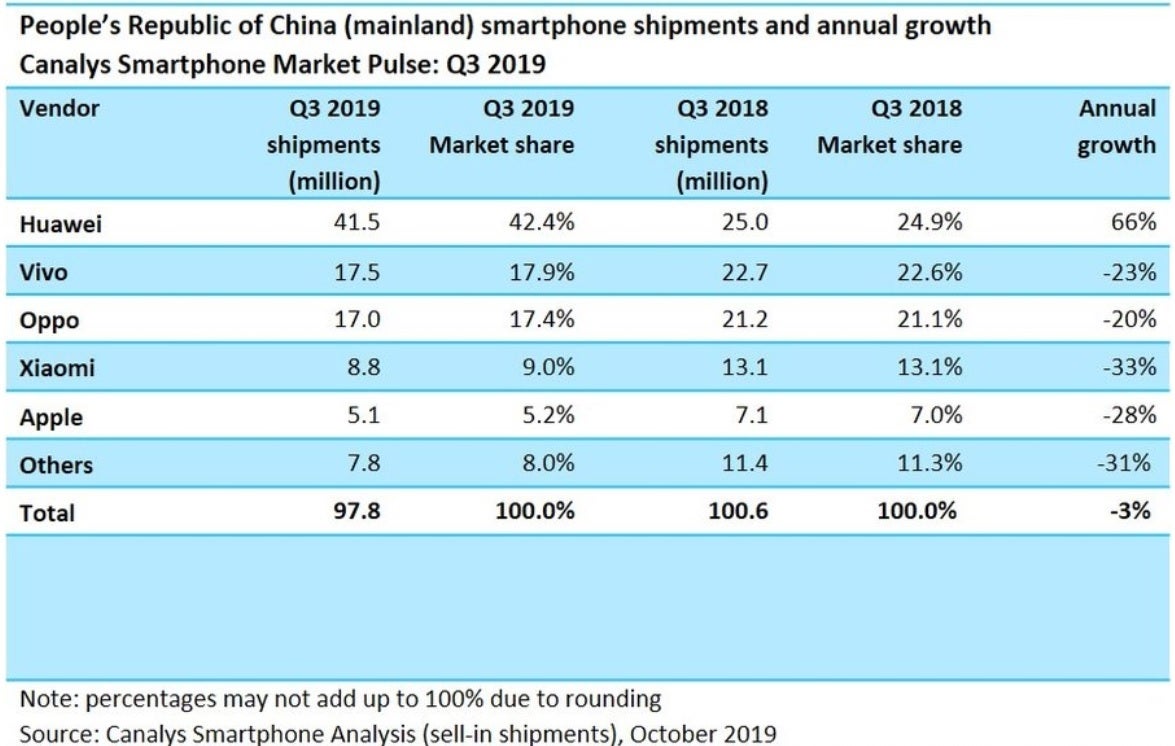 Huawei had an amazing third quarter in China, growing shipments 66% on an annual basis
Canalys notes that unless Huawei's name is removed from the U.S. Commerce Department's Entity List (which is the reason for the U.S. supply chain ban), next year could be more difficult for the company. The company is considered a national security threat in the U.S. and while its placement on the list was supposedly done for security reasons, Huawei holds out some hope that it could be used as a bargaining chip during future U.S.-China trade talks. Both countries are embroiled in a trade war right now and even President Donald Trump has suggested
that he could order Huawei removed from the Entity List in exchange for favorable terms in any deal
.